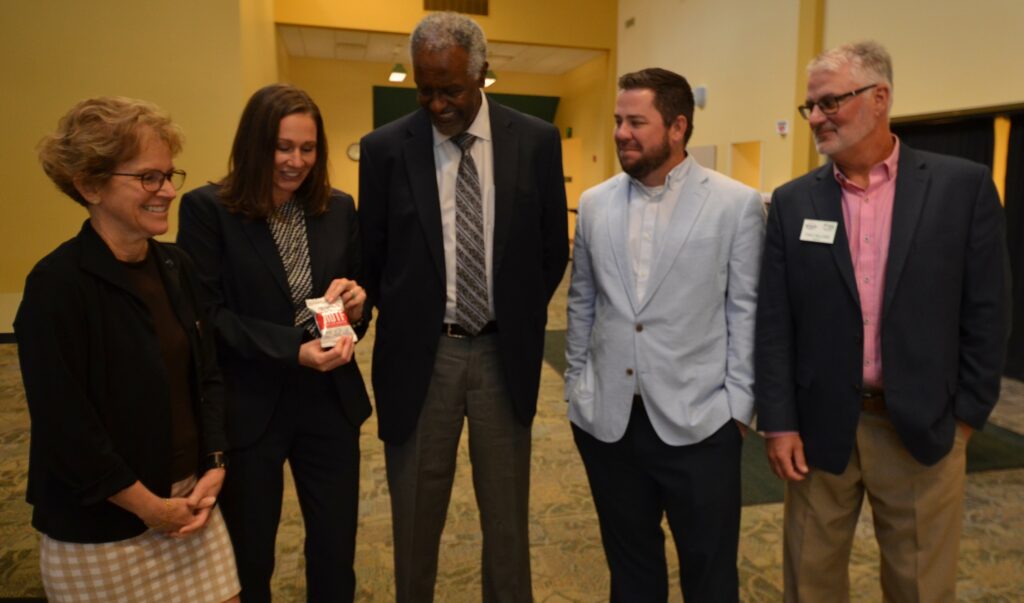 WISHH Secretary Craig Williams described how U.S. soy is a protein powerhouse during his featured remarks at a global food security roundtable that brought Indiana's top agriculture leaders to Purdue University on September 6. The Eleanor Crook Foundation partnered with Purdue and invited WISHH to have Williams, an Indiana soybean grower, speak. Participants included the Indiana Director of Agriculture, Indiana Soybean Alliance Sustainability and Value Creation Director Ben Forsythe, agribusiness leaders and Purdue faculty.
The Eleanor Crook Foundation is a champion of Ready-to-Use Supplementary Foods, which commonly use soy. Williams had joined WISHH's 2021 global food security dialogue at Edesia Nutrition, a Rhode Island-based enterprise that uses U.S. soy to make the product for distribution to about 60 countries around the world. The United Soybean Board is currently supporting WISHH's work with Edesia on a RUSF formulation that contains the most soy flour that the company has used to date in RUSF products. Edesia currently uses the equivalent of about 190,000 bushels of soybeans each year.
Purdue Center for Global Food Security Executive Director Gebisa Ejeta, a World Food Prize winner, was the keynote speaker at the event focused on research, innovation and public-private partnerships. WISHH has worked with Purdue agriculture faculty who attended the program that allowed WISHH to explore further collaboration.