EGGceptional Women's Poultry Association Anniversary
ASA/WISHH salutes Ghana's Women in Poultry Value Chain (WIPVaC) Apex Body as they celebrate their fifth anniversary and a sustained record in uniting the women who, as their slogan says, "Think Chicken." WIPVaC and WISHH have partnered since WIPVaC's early days when they launched regional chapters of the association that now includes more than 900 active association members across all 16 regions of Ghana.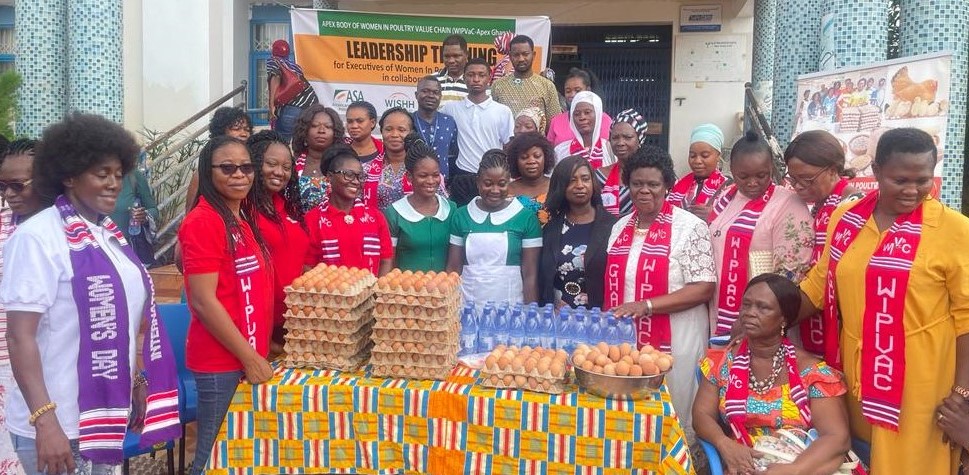 WISHH and WIPVaC reflect on highlights from the last five years, as well as future opportunities for its membership that link aggregators of soybeans and corn, day-old-chick suppliers, poultry farmers, egg sellers and poultry distributors.
Association Voice—WIPVaC was founded in response to the challenge that few women participated in poultry industry programs—even though women are often integral to poultry enterprises. Their association has built a nationwide membership base and leadership team with a proven voice for advocacy. WIPVaC led representation for its members' views on the Economic Community of West African States (ECOWAS) Veterinary Pharmaceutical Protocol and their appearance before Ghana's Parliament. Since 2018, they are active in Ghana's National Farmer's Days and more. WIPVaC President Victoria Norgbey represented the women internationally on WISHH's panel during the 2021 virtual World Food Prize. To further association development, WISHH used U.S. Department of Agriculture-Agricultural Trade Promotion Program funds to offer expanded leadership training to WIPVaC in April 2022.
Biosecurity—WIPVAC protected its members with biosecurity and animal husbandry trainings throughout their communities to avoid the spread of diseases such as the deadly avian flu.  To date, they have no reports of the virus among their membership. Biosecurity was a core component of training offered through USDA Food for Progress programs in Ghana, including WISHH's AMPLIFIES and ACDI/VOCA's Ghana Poultry projects that ran between 2015-2020. 
Economic Empowerment—WIPVaC has launched its Entrepreneurship Savings and Loans, which offers important financial choices in a country where agricultural average interest rates are often 31% or higher. WISHH is using United Soybean Board funding to lead further research into financial options that could benefit WIPVaC members as well as fish farmers and others.
Egg Consumption—WIPVaC and AMPLIFIES helped create Ghana's National Egg Campaign Secretariat along with poultry industry leaders and Ghana's Ministry of Food and Agriculture. WISHH's 2020 egg consumption survey showed record numbers of Ghanaians benefiting from eggs. Per capita consumption of eggs in Ghana has climbed to 235 in 2020.
WIPVaC hopes to open a permanent office to further showcase egg products and recruit more members, including youth.
Feed Quality and Cost—Through its AMPLIFIES project, WISHH also supported feed quality trainings and introduced innovative technologies, such as the ZeroFly® hermetic bags distributed by another WISHH strategic partner, SESI Technologies. Traditional storage allows weevils and more to damage grain in only five months. WIPVaC members report their grain holds its quality even after two years in the bags.
They are also working to help members respond to feed costs by helping members diversify into maize production. In summer 2022, WISHH expects to include WIPVaC members in a feed quality training at Kansas State University. Use of USDA Market Access Program funds will allow WISHH to share knowledge to improve feed efficiency and quality since feed costs are a challenge to Ghana's poultry farmers.
Sustained Relationship with U.S. Soybean Growers–Their strategic partnership with WISHH also forges win-win bonds between the women and U.S. soybean growers, says executive committee member Patricia Dzesu, "We are looking at a strong relationship with WISHH to exchange information and secure availability of American soy. Once we are able to get more soy readily available, then our members will be able to produce continuously."
President Norgbey summarizes the cooperation with WISHH, saying, "We are grateful and hope to maintain this relationship to impact society and satisfy the protein requirements of our nation and beyond."
World Fisheries Day Video: Building an Association
WISHH salutes the leaders of the new Cambodian Aquaculturist Association (CAA) as we recognize World Fisheries Day on Nov. 21. Launched Sept. 22, 2020, the young association has already achieved progress that aligns with the Cambodian government's goals for economic growth and nutrition, as well as COVID-19 response strategies.
The establishment and development of an aquaculture association is foundational to our long-term strategy in the U.S. Department of Agriculture-funded Commercialization of Aquaculture for Sustainable Trade (CAST) project. WISHH is a program of the 100-year-old American Soybean Association, so we have deep roots in the strategic leadership that an association can bring to its members. CAST offers a systematic approach to develop a new industry association.
Watch CAST's new video that features CAA Chairman Sok Raden, who describes the three goals that CAA's members used to lay its foundation, and how CAST supports the association with technical assistance and more.
In its first two months, the CAA's ranks swelled to 163 fish farmers, hatchery owners, feed manufacturers and distributors, as well as other key members of a growing market system for aquaculture. The Royal Government of Cambodia's Minister of Agriculture, Forestry and Fisheries His Excellency Veng Sakhon has emphasized CAA's importance to the Ministry's initiatives to grow the quantity and quality of Cambodia's aquaculture production.
CAA has already hosted its first trade show to exhibit products, creating new linkages between buyers and sellers. "The event raised awareness of how important the aquaculture industry is and showed unity that it is recognized and supported," says CAA Board Member Reth Chanthavy from Apsara Agri Supplies. She is an ADM customer and distributor of fish feeds made with U.S. soy who says, "Aquaculture farmers are not alone anymore."
A Food and Agriculture Organization (FAO) Aquaculture Branch technical paper released in January 2020 drew a key conclusion: "What is clear is that the livelihoods of small-scale farmers and hatchery operators can be improved by being associated."
In our view, FAO's Food Outlook released Nov. 12, 2020, reinforces the importance of aquaculture associations to lead innovative efforts and strengthen opportunities that support COVID-19 resilience. "FAO projects that global aquaculture production is now expected to fall, for the first time in many years, by some 1.3%. …The market effects of the pandemic have brought about several far-reaching changes, many of which are likely to persist in the long term."
We are responding to these aquaculture challenges in Africa as well as Asia. In 2020 alone, our aquaculture programming reached eight African countries and laid the foundation for more in 2021.