Cambodian Partnerships Lead Way for Aquaculture Expansion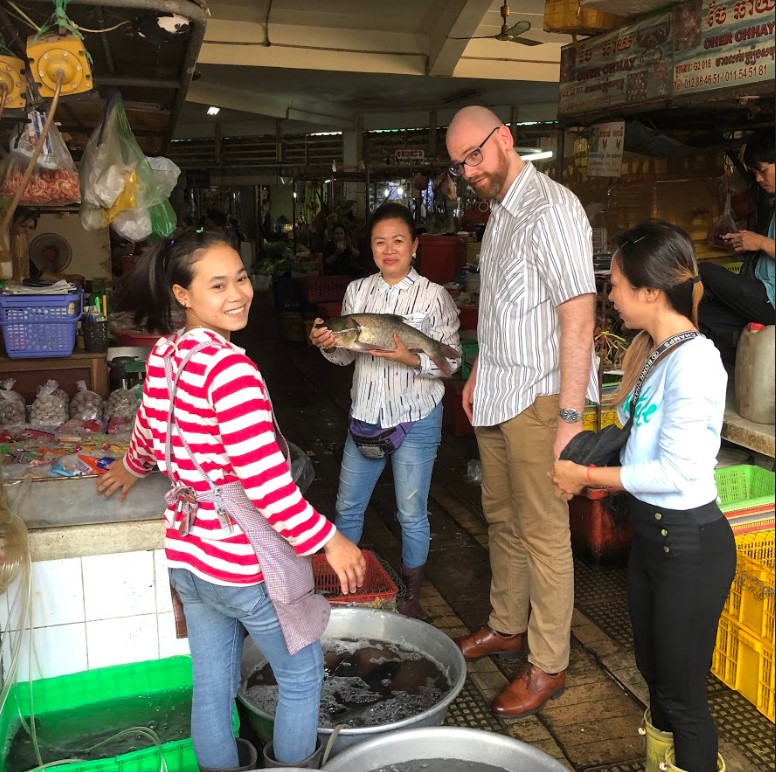 Cambodian Partnerships Lead Way for Aquaculture Expansion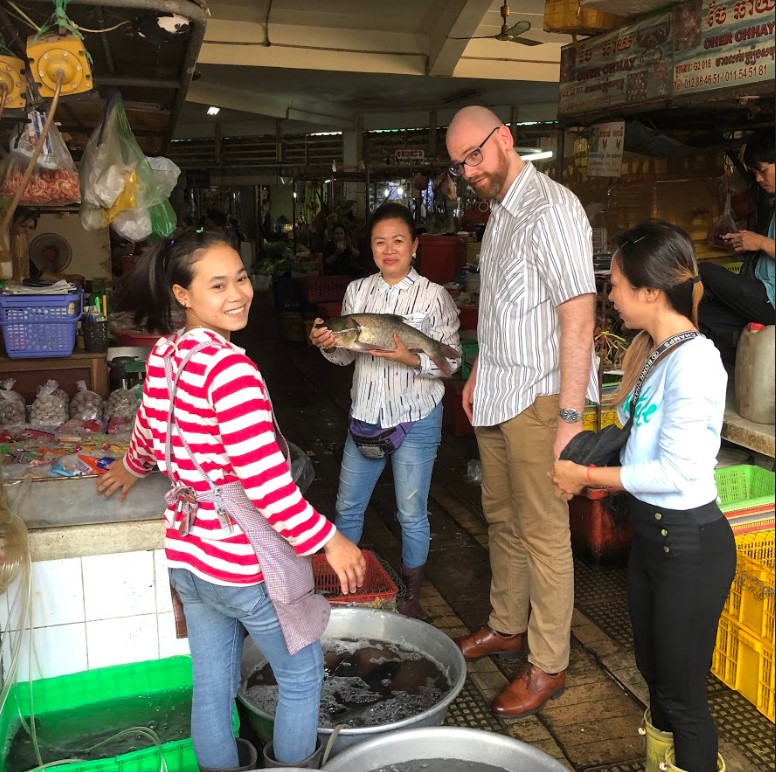 Fish are an integral component of the Cambodian diet.  Wild capture currently accounts for 76 percent of the fish on the domestic market.  Recognizing this system in unsustainable, Cambodian officials have focused their energies on increasing aquaculture production to meet the growing need for freshwater fish.
CAST (Commercialization of Aquaculture for Sustainable Trade), WISHH's 5-year USDA-funded Food for Progress program, aims to address this challenge. Beginning in 2019, the CAST project is designed to accelerate production of high-demand fish species for the Cambodian market and develop a lasting aquaculture industry that recognizes the value of soy protein in feed. CAST will impact all aspects of the aquaculture value chain including 600 commercial fish farmers, input suppliers and the buyers of farmers' fish production.
CAST, a partnership between WISHH, World Vision, Kansas State University and Auburn University, will take lessons learned from WISHH's trailblazing Pakistani aquaculture program and create a localized approach for Cambodia. WISHH will work as an incubator for new and growing businesses, providing critical technical assistance  and bridging the links between key partners in the value chain.
WISHH sees great promise in the Cambodian market. The commitment from Cambodia's Ministry of Agriculture sets this public-private partnership up for success, and the overall growth of the Cambodian economy holds great promise for U.S. soy.
Why 3 African Aquaculture Entrepreneurs
Dream Bigger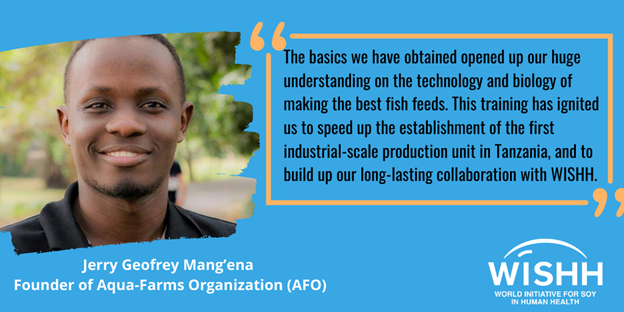 Jerry Geofrey Mang'ena, founder of Aqua-Farms Organization (AFO), says WISHH's work with AFO on aquafeed allows them to "dream bigger" as they pursue Tanzania's untapped potential for aquaculture.
"The success story of aquaculture can be like poultry in Tanzania," says Mang'ena, a marine biologist and participant in the U.S. State Department's 2019 Mandela Washington Fellowship Program.
WISHH used funds from the U.S. Department of Agriculture's Foreign Market Development and Agricultural Trade Promotion programs to support the attendance of Mang'ena and 14 other African aquaculture industry professionals in Texas A&M University's "Aquaculture Feed Extrusion, Nutrition & Feed Management" short course. Texas A&M had converted their popular in-person training program to a virtual format held August 31 – September 4, 2020.
Mang'ena and colleagues, Edwin Superius and John Kimaro, adjusted their work schedules to accommodate the training hours. Time well spent, they report.
"The basics we have obtained opened up our huge understanding on the technology and biology of making the best fish feeds," says Mang' ena. "This training has ignited us to speed up the establishment of the first industrial-scale production unit in Tanzania, and to build up our long-lasting collaboration with WISHH."
Superius, a marine scientist, says he now knows the soybean is among the best plant-based protein sources for aquafeeds.
Kimaro, AFO's resource manager, gained new insights that better aquafeeds require proper ingredients and formulations for each stage of fish growth. Different farming systems need customized fish feeds too.
Such knowledge is critical for AFO, which trains fish farmers on sustainable and economically competitive aquaculture practices. They started adopting the practices the morning after they completed the training. One new step they are taking is to assess the differences—including protein and moisture content—of their current two sources of feed. They are also evaluating protein content of different feeds they will use for various fish growth stages.
WISHH is continuing its work with the Texas A&M trainees through in-country technical assistance and opportunities for participation in future trade teams. Until they can meet in person, WISHH's team of aquaculture consultants will continue answering technical questions through email and other communications tools.
The work offers important opportunities. The United Nation's Food and Agriculture Organization reports, "Aquaculture in the United Republic of Tanzania has a vast but as yet untapped potential." …"The contribution of the aquaculture sector to national food security and economic development is still insignificant."
According to international research organization WorldFish, aquaculture in Tanzania produces 10,317 metric tons. Currently, 22,700 fishponds are used for aquaculture. WorldFish also reports low consumption of fish, at 7.6 kg/person/year in Tanzania, yet fish comprises 19.7% of the animal protein intake in the country.
Citing a 527% rise in global aquaculture production from 1990 to 2018, the State of the World's Fisheries and Aquaculture (SOFIA) 2020 report affirms the trends driving WISHH's work in aquaculture, including aqua feeds, in emerging and developing countries. The report states, "The priority should be to further develop aquaculture in Africa and in other regions where population growth will challenge food systems most."