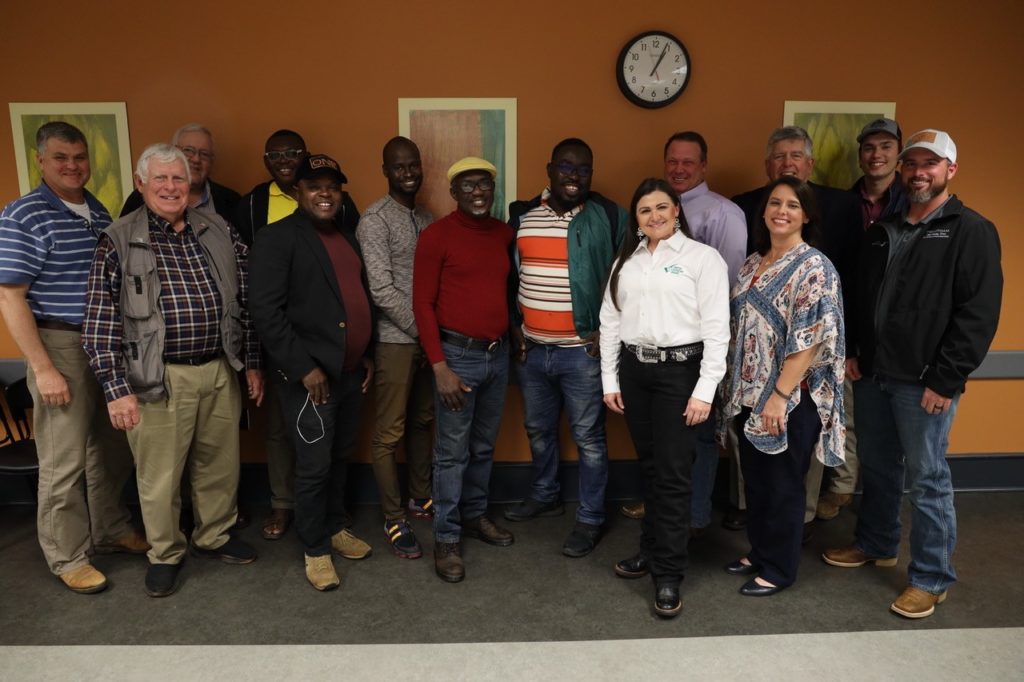 WISHH is giving sub-Saharan African fish farmers the tools to catch opportunities and overcome challenges. "Because of WISHH's training and trade trips, I've gotten the confidence to start fish farming again," says Ghanaian John Domozoro. "The technical assistance really did the trick for me.
"With this trip and the previous trainings, I have been able to more than double my yield," says Domozoro who was one of five West African aquaculture entrepreneurs to join WISHH's February-March 2022 trade team that benefited from USDA Agricultural Trade Promotion funding.
Trade team members from Nigeria, Ghana and Benin also joined Domozoro on the trip. Like Domozoro, they seek to improve their aquaculture feeds, combat productivity-crushing fish viruses and adopt new technologies. "We will definitely continue to see positive growth in the next few years," adds Domozoro. "With these trade team trips, we are getting invaluable knowledge to scale up our industry in Africa. We are learning to farm more fish and raise them much more efficiently."
The first stop for WISHH's trade team was the world's largest aquaculture conference and annual meeting of three aquaculture associations in San Diego. The trade team joined nearly 4000 attendees in educational sessions on aquaculture research and even toured a marine fish hatchery to see the new technology in action.
The delegation also traveled to Alabama for additional educational opportunities that included a meeting with Alabama soybean checkoff directors and staff during the Alabama Soybean Producers Committee meeting. They also visited a soy feed mill as well as with Auburn University experts. The trip's second leg also allowed the team to view and discuss various marine species and recirculating aquaculture systems.
Another trade team member, Evans Danso who is the CEO of Flosell Farms in Ghana, also reported the benefits of WISHH's USDA-funded collaboration. "So far, I can confidently tell you that almost all the training, support, and extension on my farm comes from WISHH projects," he says. "Because we are now sharing this information, productivity in Ghana and all of Africa is moving forward."
Danso's farm is one of the largest in his native country. He foresees a further increase in demand for soy as feed as the industry continues to grow. According to a 2022 Nature Food research article, affordable quality feeds are one of the challenges facing sustainable aquaculture development in sub-Saharan Africa. Since the year 2000, aquaculture production in sub-Saharan Africa has grown by 11% annually on average — almost twice as fast compared with the rest of the world, with a few countries growing at 12–23% per year. In Africa, private-sector investments led to aquaculture expansion, including going from 9 aquaculture cages in 2006 to more than 20,000 in 2019.