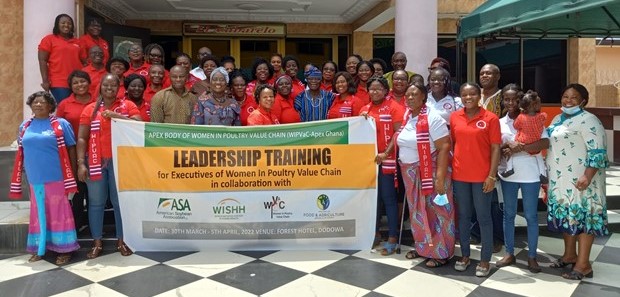 ASA/WISHH's new association leadership training for executives of the Women in Poultry Value Chain (WIPVaC) supports the growth of Ghana's domestic poultry production. WISHH used USDA's Agricultural Trade Promotion Program funds to offer association know how to 38 leading poultry producers, egg sellers, and feed marketers from seven of the southern regions of Ghana. The partnership and instruction with these association members cultivates demand for soy as a key ingredient in Ghanaian poultry feeds as well as improves food security by increasing the availability of nutrition from eggs and poultry.
During the opening ceremonies, the Ministry of Food and Agriculture Director of Animal Production Edwin Bekoe highlighted that given the inequalities women in agriculture face, there is great value in the event providing new leadership skills and business networking opportunities. "It would equip women in poultry to be in control over the benefits from their participation in the value chains," said Bekow.
WISHH contracted with Hopeline Institute, a Ghanaian organization that specializes in business development and advocacy, to conduct the training on March 31-April 4, 2022. The program strengthened the WIPVaC association and its members' businesses by offering insights on key topics, such as strategic planning, communications, public relations, data collection, and policy advocacy.
The training further boosts the women's poultry association that WISHH helped launch through its AMPLIFIES Food for Progress poultry project that USDA funded between 2015-2020. Association development is central to WISHH's strategy for local leadership and lasting results. Association members are potential trading partners.
As WIPVaC prepares to celebrate its fifth anniversary as an association, National President Victoria Norgbey, Ph.D., expressed the organization's commitment to better advocate for policies that will improve conditions for all stakeholders along the poultry value chain. "We will acquire the needed leadership skills to go and strengthen our various groups and increase the number of women in the poultry value chain,"
On April 20-24, WISHH is leading a second training for members living in Ghana's Northern region.