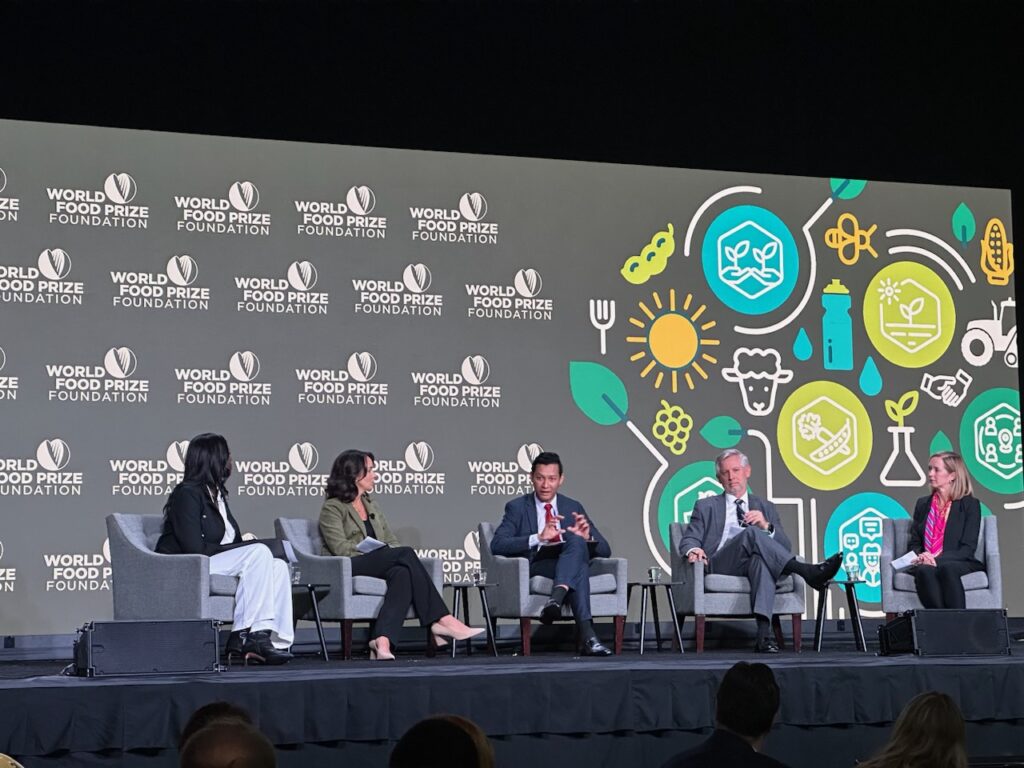 ASA's World Initiative for Soy in Human Health Program appeared on stage along with the United Soybean Board and the U.S. Soybean Export Council for a session attended by 1400 participants of the 2023 World Food Prize in Des Moines. David Samveasna, a veterinarian and aquaculture specialist for WISHH's CAST-Cambodia aquaculture project, highlighted the importance of soy-based feeds and how WISHH is introducing innovation, such as In-Pond Raceway Systems, to improve resiliency and accelerate innovation to meet the world's growing need for sustainable protein.
The "Sustainable Solutions for Every Life, Every Day to Harness Change" session attracted 1400 in-person attendees and the World Food Prize is making recordings available to reach global audiences. USDA Under Secretary for Research, Education, and Economics Chavonda Jacobs-Young moderated the panel that included USB Chair Meagan Kaiser, a Missouri soybean farmer, as well as World Food Program USA Chief Advocacy and Engagement Officer Rebecca Middleton and Zamorano University President Sergio Rodriguez.
The 2023 World Food Prize theme focuses on harnessing innovation, adaptation, and diversification to improve systemic resilience, recover from shocks, and sustainably nourish all people. Samveasna described how the theme is a good match for WISHH's USDA Food for Progress-funded CAST-Cambodia project. His own family have a fish hatchery that they launched with support from the U.S. Agency for International Development. He also shared how WISHH is leveraging USAID's Feed the Future Innovation Labs, including fish farming demonstrations at a USAID-supported educational farm, housed at Cambodia's Royal University of Agriculture.
Samveasna's family were the first in Cambodia to install the unique IPRS that WISHH tailored to meet Cambodia's extreme wet and dry seasons as well as other local needs. The Missouri Soybean Merchandising Council supported WISHH's introduction of the IPRS. Samveasna also highlighted how WISHH works to assist Cambodian fish farmers with systems and technology that make their operations more productive as well as climate resilient, including technology that reduces food waste. The 28-year-old also described aquaculture as an opportunity for youth and that soy sustainably supports the Cambodian economy while helping feed its population.
"Through WISHH, we are working with feed manufacturers and distributors that recognize the value of soy," Samveasna told the audience. "That makes our fish farmers more productive."