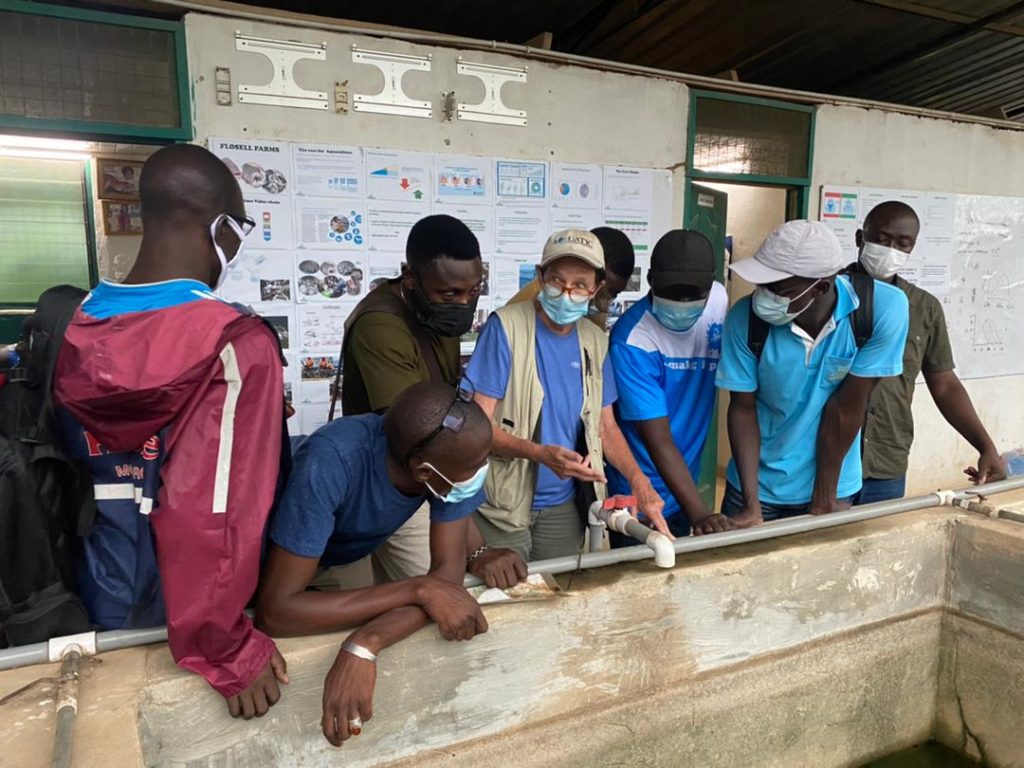 ASA/WISHH continues to boost the growth of African aquaculture development this October through its latest trainings for regional entrepreneurs. With the support of USDA Agricultural Trade Promotion (ATP) funds, WISHH is convening 15 entrepreneurs from seven countries across the continent in Ghana, where they are learning from WISHH technical experts as well as one another.
Because of its close strategic partnership with WISHH, Flosell Farms serves as a natural partner to host WISHH's ATP-funded management trainings in the region. Evans Danso, the co-founder of Flossel Farms, notes that WISHH is at the forefront of aquaculture development in West Africa and appreciates its role in fulfilling increasing demand for feed, saying WISHH "offers more support for the advancement of aquaculture in the region."
One of the training attendees is Aqua Farm Organization (AFO) Chief Operating Officer Mbonea Assery. The youth-led company produces roughly 10% of Tanzania's fish fingerling production each year. After speaking with a longtime WISHH strategic partner like Danso, AFO's founder, Jerry Mang'ena, quickly saw the value of sending Assery to Ghana for the management trainings.
Mang'ena shares that "WISHH trainings have helped my employees truly understand aquaculture feeds, like the value of soy protein in [AFO's] hatcheries."
WISHH regularly supports entrepreneurs who travel to the U.S. for training from experts on feed management, water quality, and fish health. Due to pandemic travel challenges, WISHH is leveraging USDA funds to offer training in Africa while WISHH's globally recognized technical experts continue to advise.
With Flosell Farms serving as the backdrop for demonstrations, training, and hands-on activities, the African aquaculturists are learning basic management practices to improve aquaculture development in their countries. As the industry grows through these improved practices, soybean meal demand will too. Likewise, as fish consumption increases, the need for more fish feed will grow as well. WISHH's theory of change is supported by entrepreneurs like Mang'ena, who plans to expand his production in other parts of his native Tanzania and around the Great Lakes Region in Africa.
The trainings also set the stage for additional WISHH activities. For example, WISHH is working with senior-level feed and aquaculture business leaders who are positioned to expand their operations across the region. Many of the attending entrepreneurs also provide critical insight into the viability of Benin, Togo, and Burkina Faso aquaculture markets.