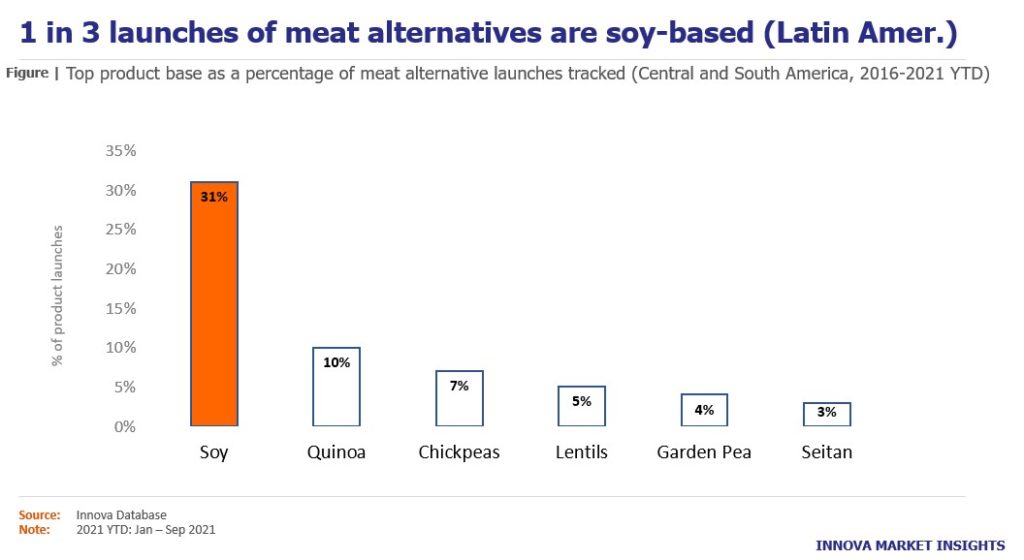 Chart photo caption:  Soy tops the Food Industry Meat Alternatives List in Latin America. Source: Innova Market Insights
WISHH hosted a virtual trade team of key and potential Latin American customers to raise awareness of U.S. soy protein's applications in meat alternatives and highlight the sustainability of U.S. soy. Over the last 5 years, one out of every three new meat alternative products introduced into Central and South American grocery stores contains soy protein, according to Christine Lopes, Innova Market Insights business development manager, Mexico. 
During the Nov. 30 "Meat Analogs: Trends and Production with U.S. Soy " virtual trade team event, Lopes also revealed that unlike many other regions of the world, consumers in the region are open to trying meat alternatives. She reports 46% of them believe meat alternatives are a healthy choice. And during the pandemic, 32% of Latin Americans increased their consumption of meat alternatives.
Luis Arturo Bolaños, commercial soy meat alternatives innovation expert, underscored the significance of the shift in consumer behavior and the food industry's response to that shift. "The meat alternatives sector is transitioning well beyond just being a niche market in Latin America. With 48% of Central and South American consumers making the decision in 2020 to use plant-based foods in their diet, the industry is stepping up to deliver what those consumers want in their meat alternatives. And that's products that are nutrient dense with appealing texture, tastiness, and appearance, and well as having a sustainability story. And U.S. soy has a great sustainability story to tell." The region's consumers are interested in learning more about where their food comes from and how it is made.
USDA's Market Access Program and the Michigan Soybean Committee funded this WISHH trade team educational event.