Poultry and aquaculture feeds are a top priority for WISHH's 2021 focus in West Africa. In aquaculture, WISHH is leading a feasibility study of a new fish feed mill to supply several of the French-speaking countries in West Africa.
Using USDA Agricultural Trade Promotion funding, WISHH commissioned an African aquaculture expert to evaluate the regional demand for fish feed, analyze distribution channels, and assess the region's ability to develop into a significant aquaculture producer. The study started in April and completion is expected in September.
A WISHH strategic partner will then use study results to make feed mill investment decisions that will boost the aquaculture industry in the region. WISHH is also mentoring this company's staff on business management and more by having them participate in WISHH's USB-funded Mobilizing Entrepreneurs to Expand U.S. Soy Utilization in Developing and Emerging Markets Initiative.
WISHH's West African poultry development work includes cooperation with a growing Senegalese company, Tassete Green Farm Sarl. Tassete is currently the third-largest poultry producer in Senegal. CEO Mohamadou Mbaye believes that vertical integration is the key to their future success because it will allow them to increase the scale and profitability of their operation as well as better control feed quality and the health of the birds.
The WISHH team is using USDA Foreign Market Development Funds to support Tassete with technical guidance for the investment decision on the construction of a feed mill. WISHH is working with a Kansas State University expert to provide Tassete with price quotes for U.S. feed milling equipment that could produce high-performing feeds with quality U.S. ingredients.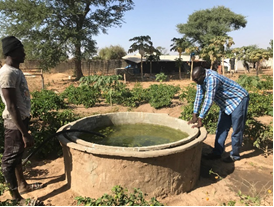 Photo Caption: WISHH is working to give West African farmers greater access to formulated fish feeds, which will allow them to invest in more advanced aquaculture production.