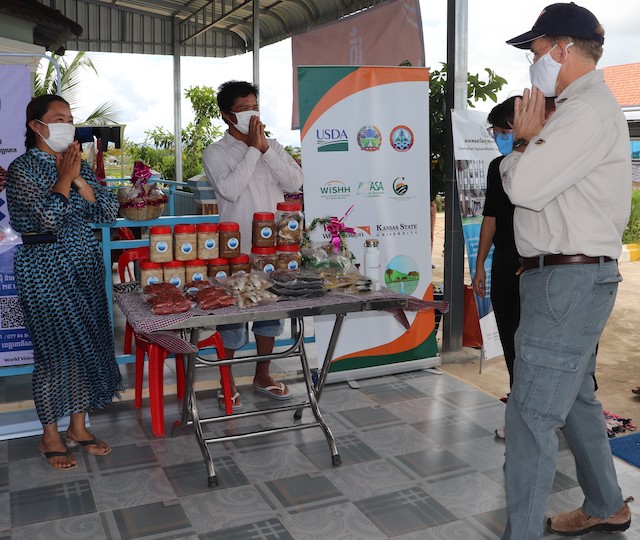 U.S. Ambassador to Cambodia W. Patrick Murphy describes ASA/WISHH's USDA-funded aquaculture project Cambodia as a good example of a public-private partnership, "I am really delighted to see the partnership that's under way here between the USDA and our embassy in Phnom Penh and the U.S. soybean association in partnership with the Ministry of Agriculture and Fisheries here in Cambodia."
Murphy made the remarks as he joined the Commercialization of Aquaculture for Sustainable Trade – Cambodia (CAST) and the Cambodian Aquaculturist Association annual meeting on September 22. To meet with CAA and CAST beneficiaries, the Ambassador traveled to a CAA member's fish farm in Pursat Province. "The work you are doing today is important to strengthening aquaculture, sustaining livelihoods, and building a strong association," said Murphy.
With CAST support, the CAA held its meeting at the host farm while CAA members and other CAST beneficiaries gathered in small groups across six provinces. CAST staff joined them to support their virtual participation as CAST launched a new training video on improved farming practices and market linkages for aquaculture. The video describes which fish species are in high demand and the standards that fish wholesalers, marketers and other supply chain members need to meet.
The CAA presented its first annual report and conducted other business and governance discussions. The program also facilitated in-person business discussions between members of Cambodia's aquaculture industry, including fish buyers and collectors, producers, and feed and other input suppliers.