The ASA/WISHH-supported Cambodian Aquaculturist Association (CAA) is growing in stature, including capturing widespread attention from major Cambodian media outlets as well as social media. Launched on September 22, the young association has already enrolled 163 members of the aquaculture sector.
Cambodia's Minister of Agriculture, Forestry and Fisheries (MAFF) His Excellency Veng Sakhon presided over CAA's inaugural events that drew six media outlets such as the Khmer Times. An important digital news platform that focuses on agriculture and aquaculture, ThmeyThmey 25, featured CAA, contributing to a total of five videos and six articles that have elevated awareness of the association.
Facebook is particularly popular in Cambodia; social media is an important strategy for both WISHH and the CAA. One of the PNN media company's Facebook videos featured aquaculture expert Karen Veverica who described proper feed and feed management for aquaculture. Veverica is the recently retired director of one of the world's largest fisheries/aquaculture university-owned research stations located at Auburn University. She is currently consulting to WISHH's USDA-funded Commercialization of Aquaculture for Sustainability Trade (CAST) – Cambodia project as well as WISHH's aquaculture work in Africa. Her interview on the Cambodian PNN news outlet's Facebook page achieved significant results– 69,139 views, 5,400 likes and 941 shares. Each of the other videos receive a minimum of 17,810 views and 682 likes.
The media coverage has contributed to almost daily inquiries about possible CAA membership. Media are requesting more interviews. CAA is currently arranging for a board member to conduct another television interview with CNC's program – "Round Table". CAST's Cambodian communications and other staff continue to assist the young association with media and other activities.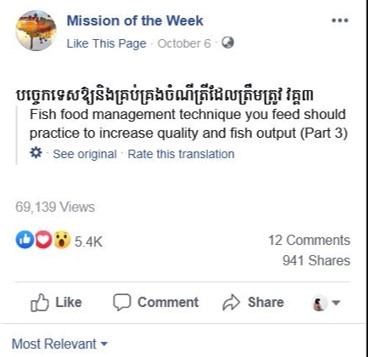 Photo caption: CAST consulting aquaculture expert Karen Veverica provided an interview to the PNN TV program's Mission of the Week that aired on its Facebook page. Veverica explained the importance of having proper management of feed and the value of floating fish feeds made with soy, garnering 69,139 views, 5,400 likes and 941 shares.