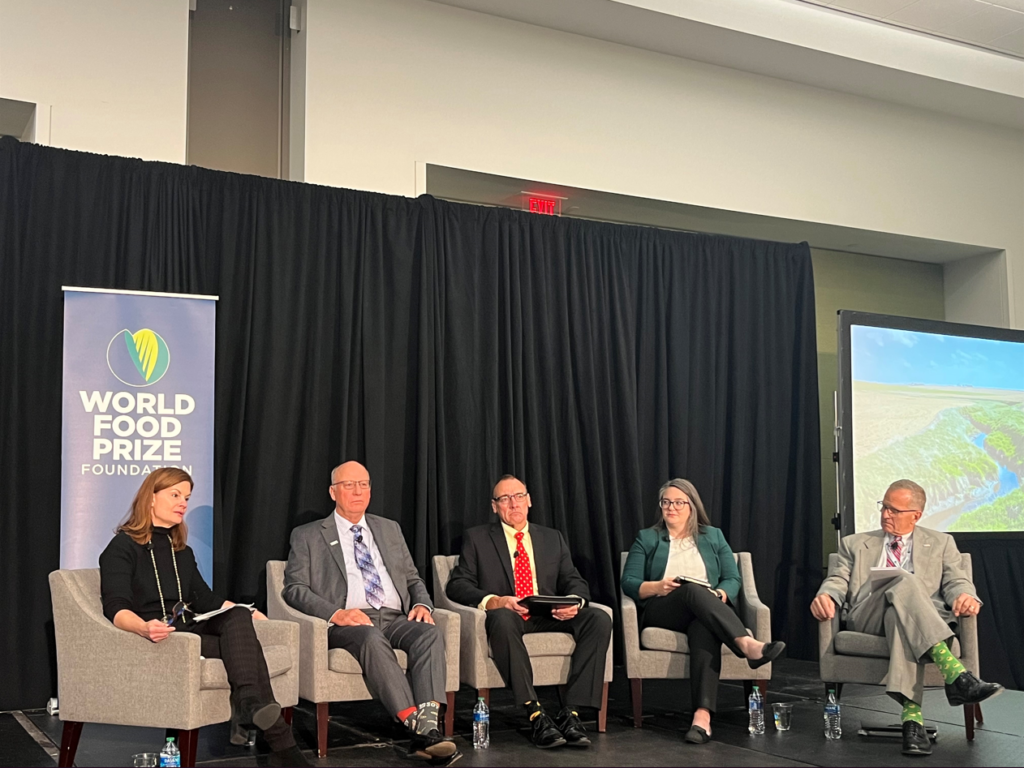 ASA's World Initiative for Soy in Human Health Program joined a panel of U.S. soybean organization leaders in discussing their commitment to global food security as part of the 2022 Norman E. Borlaug International Dialogue in Des Moines. The Nov. 19 breakout panel U.S. Soy Producers' Commitment to Feeding a Fragile World featured how U.S. soy trade and development offer quality nutrition for global food security, benefit climate strategies, and support progress of people and their communities around the globe.
WISHH Executive Director Gena Perry spoke about WISHH's leadership for trade, development and food security during the panel that also featured USB Director and USSEC Chair Doug Winters, USSEC CEO Jim Sutter, and Iowa Soybean Association Senior Director for Soybean Research Ed Anderson. USB CEO Polly Ruhland moderated the panel. Held in conjunction with the presentation of the World Food Prize, the annual Dialogue convenes a wide array of scientific experts, policy leaders, business executives and farmers and is called "the premier conference in the world on global agriculture." This year's theme, "Feeding a Fragile World," allowed soybean industry leaders to showcase how U.S. soy is important in global food systems.
Perry began the discussion by noting the protein gap in 28 countries where WISHH works in sub-Saharan Africa, Asia and Latin America.
"WISHH works across the value chain to provide custom technical assistance and trainings to in-country partners so they can increase their production of soy-based food and feed," Perry noted.
To give an example of this work, Perry highlighted the organization's work in aquaculture in Cambodia. Through advancements in technology and by leveraging support from state and national soybean checkoff programs, WISHH has helped Cambodian farmers adapt to extreme wet and dry seasons as well as reduce food and feed waste.
"In Cambodia, WISHH promotes high-quality, soy-based floating feed versus homemade feed," Perry explained. "The floating soy-based feed allows for producers to reduce waste by better monitoring how much the fish are eating and not over-feeding while providing a high-protein feed."
The conversation also allowed WISHH to share how it builds associations in countries that can ultimately result in the sustainability of many WISHH projects. The Cambodian Aquaculturist Association (CAA) is such an example.
Lastly, Perry also described WISHH's USB-supported work with Edesia Nutrition, which makes ready-to-use therapeutic foods to treat acute malnutrition. Edesia depends on U.S. soy to manufacture their protein-rich products that are sent to more than 60 countries. This product is especially important given the conflict and climate challenges that are the theme of the International Dialogue.