In recognition of International Women's Day and National Nutrition Month in March, WISHH honors entrepreneurs, like aquaculture businesswoman Lim Bunny in Kampong Cham, Cambodia, who lead innovative food and feed enterprises. We thank Bunny for sharing her vision, advice, and how ASA/WISHH's Commercialization of Aquaculture for Sustainable Trade-(CAST) Cambodia project is helping her grow her wholesale distribution business that now sells 2-3 tons of fish daily. Compared to last year, her sales revenue has increased by 30%.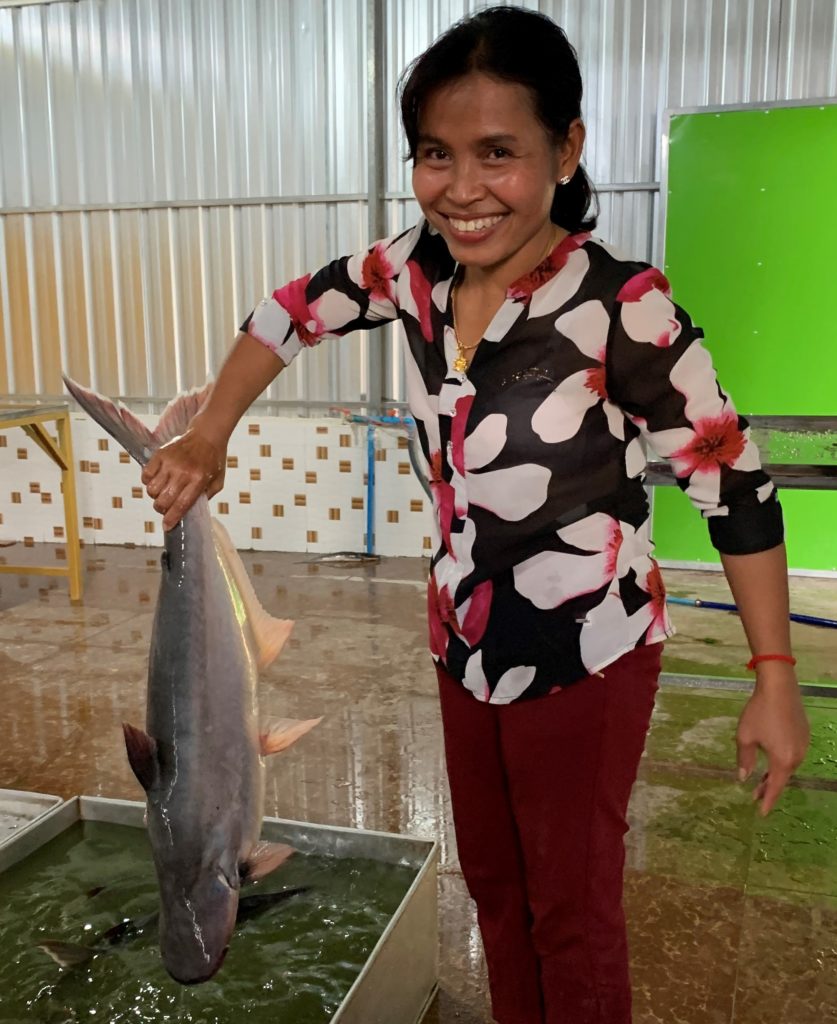 CAST is a U.S. Department of Agriculture-funded Food for Progress project. Bunny is working through World Vision Cambodia, a CAST project partner. She joined the project to improve her 10-year-old business that employs 10 workers.
Current customers include families, local restaurants, and three industries that buy her fish for their workers. "My dream is getting my own brand and selling into big markets, such as supplying to supermarkets in the city. Until I met CAST, I didn't have a mentor to help me grow my business into larger networks."
Through CAST, Bunny has received guidance on business management and food safety standards, and other assistance that is helping her pursue the premium market with a high-quality fish product. CAST assisted her in creating a clear business plan that enables her to find her vision and niche. The plan also details specific action items, including logistics, transportation, marketing, and branding, and more. Additionally, CAST introduced Bunny to CAST's financial partners who are assisting her with access to capital and other financial resources.
She received a loan from Chamroeun Microfinance and is using the money to improve the business with a new truck, water cleaning machine, and renovated electrical system and warehouse. "Because my goal is to reach premium markets, I had the idea of improving my facilities to improve my product quality."
Another of Ms. Bunny's goals is to promote local, farmed-raised fish, which will become the core of her brand identity. To achieve this, Bunny began purchasing good quality local fish from Cambodia's Center of Excellence on Sustainable Agricultural Intensification and Nutrition (CE SAIN). CE SAIN is cooperating with Kansas State University, another CAST partner. She reports her customers favor the quality of the CE SAIN fish that she began purchasing in January 2021. "My customers like the CE SAIN fish even though the price is a little higher. When they hear that it is a locally raised fish, they are very happy because they want to support our local farmers."
Bunny also joined the Cambodian Aquaculturist Association (CAA) that CAST helped launch in 2020. She says the association expands her network with other aquaculture businesses and keeps her current on industry information.
"This project [CAST] has accelerated me by guidance, advice, and actions," she says. "It exceeds my expectations.
"So far, I have learned that I am a person who can make a bigger change than what I have ever done before."
Bunny shares advice to help others. "I would encourage women to take part in the aquaculture business, and for those who are already involved, I want to recommend that you have to take a step before anyone else does because this is your chance. And another piece of advice is a woman can do everything a man does too."
Photo credit: World Vision Cambodia