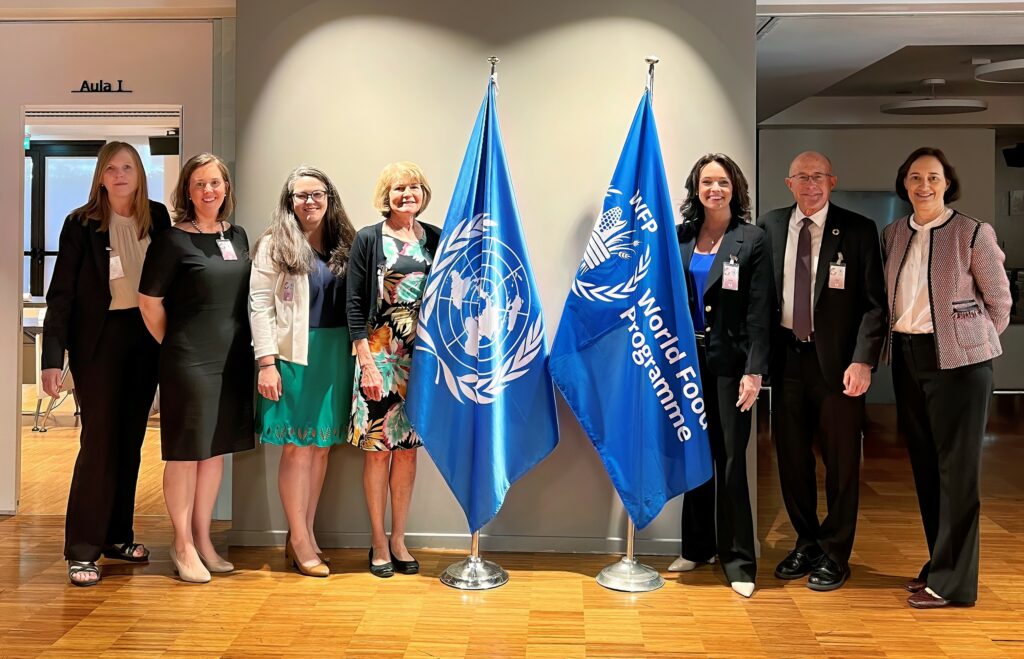 ASA's WISHH organized meetings with the world's leading global food security organizations based in Rome where the soy delegation repeatedly received feedback that it was important to have U.S. soybean farmers' voices and views heard in Rome. WISHH Chair Roberta Simpson-Dolbeare, WISHH Treasurer Bob Haselwood, USB Chair Meagan Kaiser and WISHH Executive Director Gena Perry led the May 3-5 discussions on sustainable U.S. soy protein with USDA's Foreign Agricultural Service and all three of the Rome-based global food security organizations: Food and Agriculture Organization of the United Nations, World Food Programme, and the International Fund for Agricultural Development.
USB supported the WISHH outreach that included a meeting with FAO Deputy Director General Beth Bechdol, a member of a soybean farming family in Indiana. Bechdol is a leader in FAO efforts to increase FAO's work with the private sector. FAO reports that trade is key to addressing food security, nutrition, and sustainable agriculture.
Ellen Luger, U.S. Minister Counselor of Agriculture in Rome, and FAS staff also met with the group. Luger joined WISHH's meetings with WFP and IFAD where the farmers shared examples of how U.S. soybean growers are leading action through WISHH's work on trade, development, and global food security. WISHH gave examples of how its work expands U.S. Soy's role as a powerhouse protein for global food security.
USSEC facilitated a speaking role for Kaiser on soil health during the International Agri-Food Network's Climate, Science, and Innovation event that attracted 100 guests, including ambassadors and senior diplomatic representatives of FAO member countries.