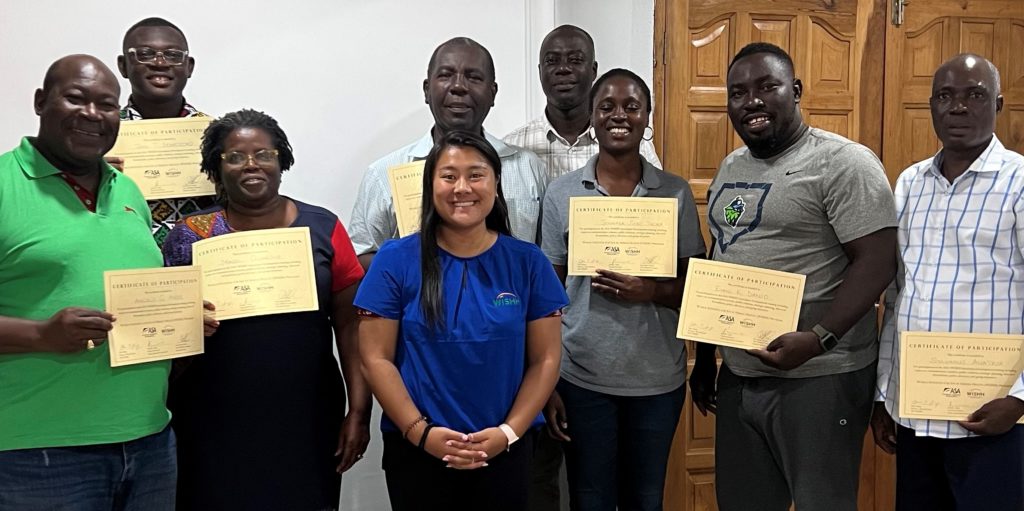 ASA/WISHH's latest association development activity trained seven leaders of the Ghana Aquaculture Association (GAA) to support expanding aquaculture production in sub-Saharan Africa. Using USDA Agricultural Trade Promotion Program (ATP) funds, WISHH offered customized training on strategic planning, communications and public relations, data collection and advocacy.
Participants included fish farmers, processors and marketers. Sylvanus Atwatror, a fish farmer and GAA board member, thanked WISHH for its continued role supporting Ghana's aquaculture industry. "This [training] has given me hope for what I have been yearning for–for all fish farmers to come together," Atwatror said. "It's a big benefit to us as practitioners in this country."
Hopeline Institute, a Ghana-based organization specializing in business development, partnered with WISHH to lead the training in Aburi, Ghana on April 28-May 2, 2022. Association development is key to WISHH's strategy to build sustainable trade for U.S. soy. The training also referenced WISHH's work with another association, the Women in Poultry Value Chain (WiPVaC), as another example of building membership and capacity for impact.
According to research publication Nature Food, aquaculture production in sub-Saharan Africa has grown by 11% annually on average since 2000 — almost twice as fast compared with the rest of the world, with a few countries growing at 12–23% per year. As production increases, so too does a need for soy in fish feed, of which U.S. soy can help fill gaps in that demand. WISHH continues to support association development in emerging markets, helping to build momentum, infrastructure, and strengthen pathways for U.S. soy.