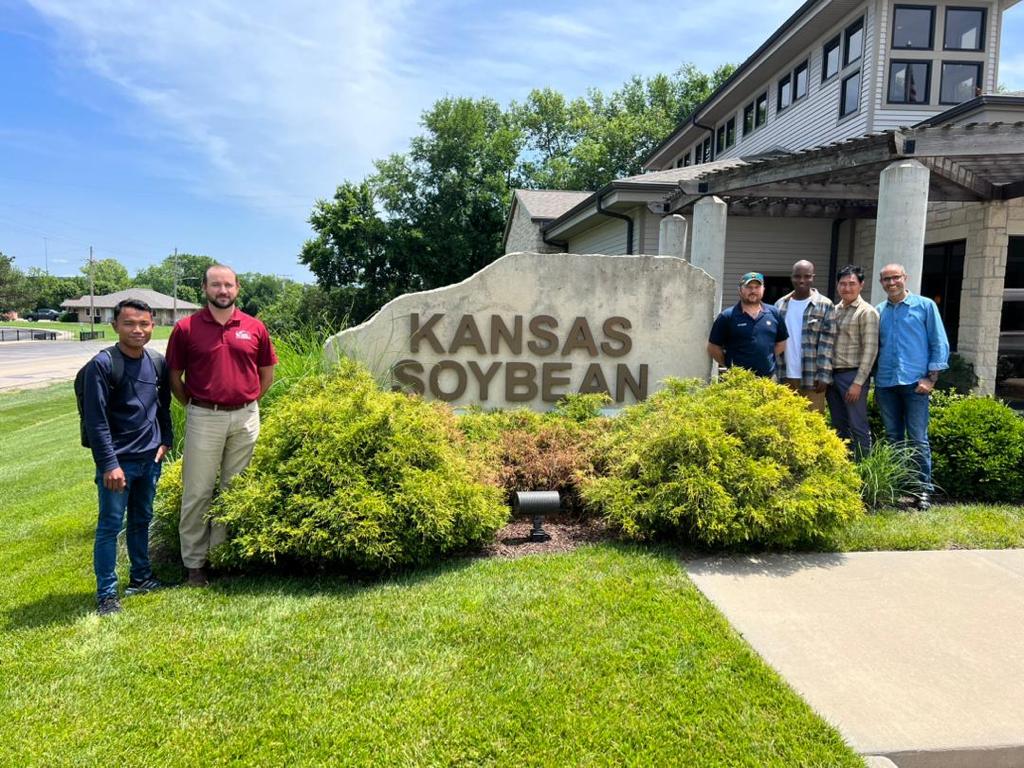 The American Soybean Association's World Initiative for Soy in Human Health program led two trade teams across four states this June. Across two trade teams, WISHH partnered with the Kansas Soybean Commission, Minnesota Soybean Research and Promotion Council, and the Northern Crops Institute, to bring eight soy food and feed business leaders from Myanmar, Cambodia, Ivory Coast, Ghana, and Senegal to visit soy production leaders in Kansas, North Dakota, and Minnesota to visit soy production leaders in Kansas, North Dakota, Illinois, and Minnesota. The groups made the trip to the United States to learn about U.S. Identity Preserved food soybeans, soy food processing, quality testing, animal feed manufacturing and to meet with soybean suppliers.
In mid-June WISHH and Kansas Soybean welcomed trade team members to strengthen relations between these soy business leaders and U.S. soy. Some of the African businesses had recently purchased U.S. soybean meal and were eager to return to speak to U.S. suppliers. WISHH also leveraged Kansas Soybean Commission funding with USDA Market Access Program funding to support the trade trip. In addition to visiting the Kansas QSSB office the group also toured USB Director and Kansas Soybean Commissioner Lance Rezac's farm, "The quality of U.S. soy is always better," said one trade team member from the Ivory Coast "We never have a quality problem."
Another trade team member from Ghana noted his appreciation for U.S. standards on growing soybeans, saying "We know that the U.S. quality is a premium quality because of the regulations and specifications."
Additionally, WISHH leveraged USDA Agricultural Trade Promotion program funding to include importers and soymilk and tofu producers from Cambodia and Myanmar for a food bean procurement course at the Northern Crops Institute in late June. The course covered the many benefits of using U.S. Identity Preserved food soybeans for tofu, soymilk, and other soy products.
The WISHH strategic partners were pleased to visit with U.S. exporters and tour export facilities in both North Dakota and Minnesota. The group rounded out the trip by attending the Specialty Soya and Grains Alliance's Fork to Farm event near Potomac, IL. The event was supported by the Illinois Soybean Association. As 2022 saw the first trade trips since the pandemic, the 2023 version built on those connection points and continues to expose U.S. soybean growers to markets in Asia.