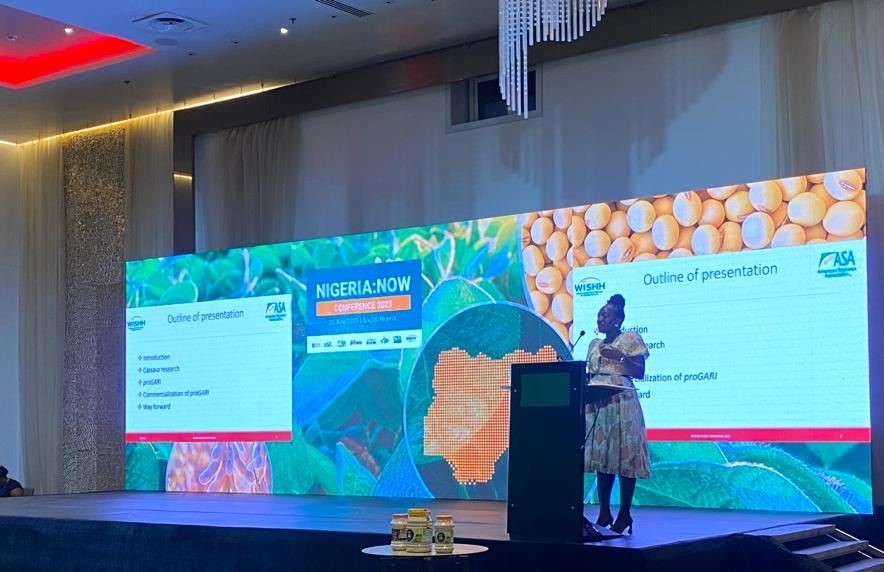 The American Soybean Association's World Initiative for Soy in Human Health Program sponsored the attendance and presentations of multiple African strategic partners at the annual Nigeria: Now Conference in Lagos. Longtime WISHH research partner Leticia Amoakoah Twum and aquaculturist Sofolabi Sofela attended the conference to present research on soy's use in food products for global food security, speak to the increasing strength of aquaculture in West Africa, and discuss new technology installed on many farms with the support of WISHH.
Nigeria: Now is an annual executive delegation from the U.S. led by USSEC's CEO, Jim Sutter. The conference aims to bring together U.S. Soybean industry leaders and exporters with key stakeholders from the Nigerian soybean value chain. The conference provides an opportunity to develop long-term collaboration between the two countries.
Sofela provided attendees with an update on aquaculture trends in West Africa. As aquaculture develops, so too can the industry's potential reliance on U.S. Soy for feed. Sofela noted that WISHH has begun setting up aeration trials at two commercial aquaculture farms in Ghana. Funded by the Nebraska Soybean Board, the trials are conducted to assess the economic viability of using pond aeration systems in tilapia production. He expressed his belief that they continue to show positive promise. Additionally, the United Soybean Board sponsors a 16-week practical farm training experience in Ghana at Flosell Farms, where the aeration trials are located. WISHH, with support from USB, hopes to create a new generation of leaders in aquaculture that can share their knowledge and skills to develop the industry as farm managers and extension personnel.
Amoakoah Twum presented her research on a soy-gari blend's protein value and commercial viability. Amoakoah Twum worked with WISHH strategic partners on training and market research to beef up her product's commercialization strategy.
"Through the help of WISHH/ASA, I attended the Nigeria: NOW to share my experience utilizing soy for human nutrition," said Amoakoah Twum.
Amoakoah Twum's research in global food security supports USB's vision to showcase soy's role as a sustainable protein solution.
WISHH's partners attended the conference with the support of USDA Agricultural Trade Promotion and Foreign Market Development funds. Through these avenues, WISHH continues building strong partnerships in sub-Saharan Africa that strengthen the ties with U.S. soy and explore possible expansion in the region.