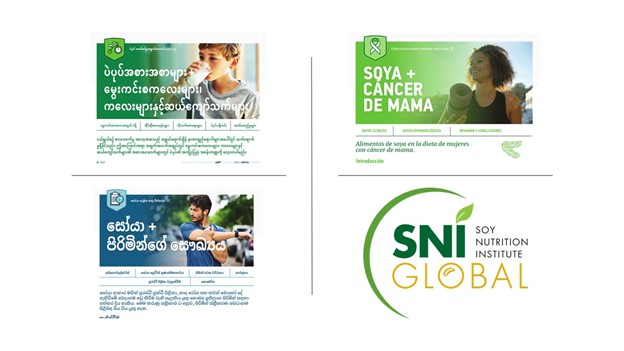 ASA/WISHH's Asian and Latin American regions face challenges where consumers and companies might be unaware of the science that supports soy protein for healthy diets. Finding reliable and accurate information can be challenging to counter these many myths.
The Soy Nutrition Institute Global (SNI Global) produces fact sheets on the many nutritional and health benefits of soy protein consumption. Fact sheet topics cover children as well as men and women's health; facts and myths on soy consumption; and breast cancer. Leading health and nutrition experts author the SNI Global fact sheets using science and peer-reviewed research studies. The fact sheets are written for nutrition and health influencers and health practitioners.
Using USDA Foreign Agricultural Service Market Access Program (MAP), Foreign Market Development (FMD) and Michigan Soybean Committee funding, WISHH translated six fact sheets into Spanish, Burmese and Sinhalese, a widely spoken language in Sri Lanka. WISHH is distributing the translated fact sheets through training events, technical assistance consultations, trade teams and trade-servicing meetings. WISHH partners with other organizations to leverage their expertise, including SNI Global, which featured this translation activity at their March membership meeting. SNI Global creates numerous factsheets on a myriad of human health-related topics. This and other factsheets will appear on their new website, www.SNIGlobal.org.
WISHH is an active member of SNI Global, including Latin America Division Director Marypat Corbett serves on the SNI Global board.