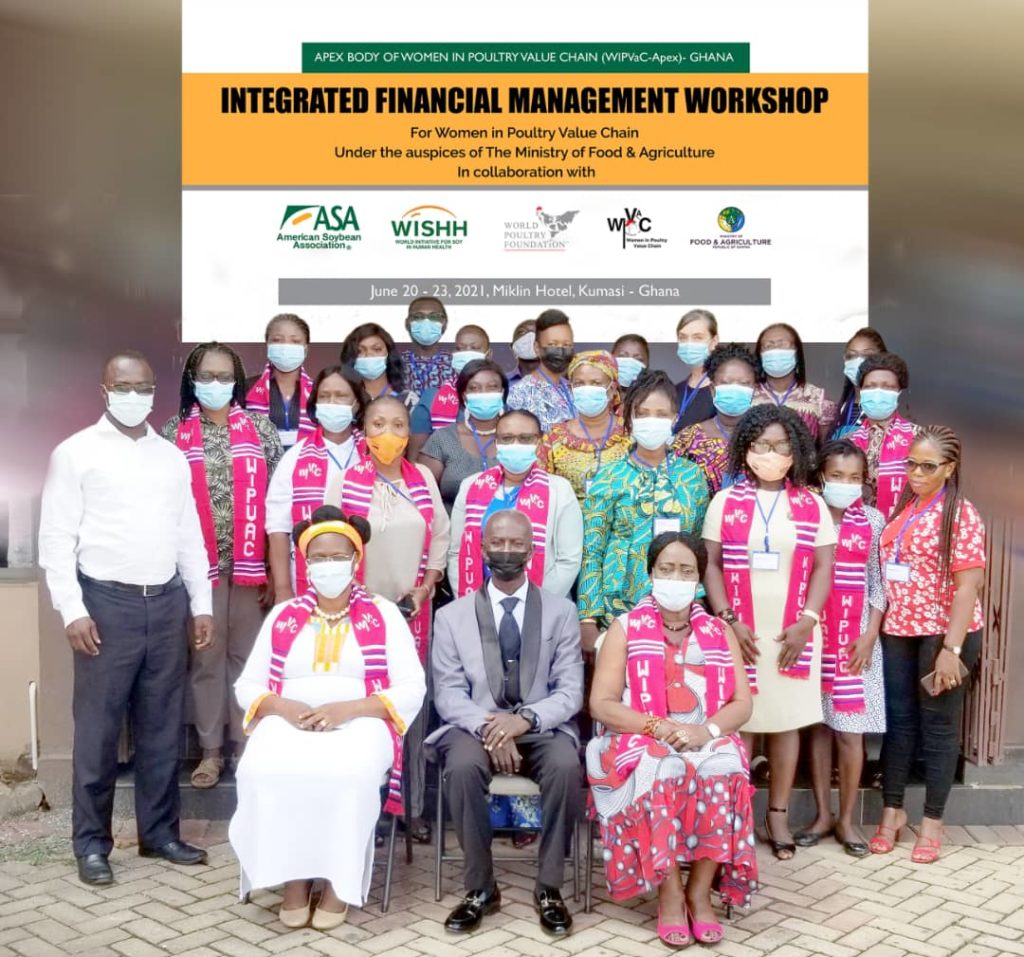 With a growing demand for poultry meat and eggs in sub-Saharan Africa, ASA/WISHH supports entrepreneurs in West Africa who are working to expand their domestic poultry production. Together with key Ghanaian partners, WISHH organized three, three-day workshops attended by more than 60 women who sought to improve their accounting, financial planning and other business skills that boost the profitability of poultry producers, egg sellers, feed marketers and more.   
Ghanaian Ministry of Food and Agriculture officials as well as important poultry industry leaders spoke at WISHH's training held the week of June 14. The program informed poultry entrepreneurs on the importance of sound financial management and offered tools to evaluate improved management and feeding practices. The training also created a forum for sharing the benefits of using high-quality soy-based feeds.
In collaboration with the World Poultry Foundation and Women in Poultry Value Chain, WISHH contracted with Franchising Plus, a South African-based business planning firm, to conduct the training in several regions across Ghana. Franchising Plus organized the WISHH trainings in Accra, Cape Coast and Kumasi with funding from the USDA's Agricultural Trade Promotion Program, Foreign Market Development Program, Market Access Program, and the Arkansas Soybean Association. Attendees included Ghanaian poultry farmers, egg sellers, and individuals from the Ghana Poultry Network, which is a non-profit that supports the growth of poultry production for its economic and food security benefits.
The training builds on the work of WISHH's AMPLIFIES program, a USDA-funded Food for Progress Project aimed at building the capacity of Ghana's poultry industry. WISHH led AMPLIFIES Ghana from 2015 through 2020, offering actors in the Ghanaian poultry value chain insight into the value that soy adds to poultry feed. The project's National Egg Campaign promoted egg consumption as a nutritious way to meet Ghana's growing protein demand while driving growth of future soybean exports to this emerging market.
AMPLIFIES also worked closely with WIPVaC to strengthen their association and membership while partnering with them on World Egg Day and International Women's Day celebrations. The June 2021 financial trainings advanced WISHH's strategic partnership by offering the next level of training for poultry growers to gain business management skills and lead to the adoption of improved poultry feeds.