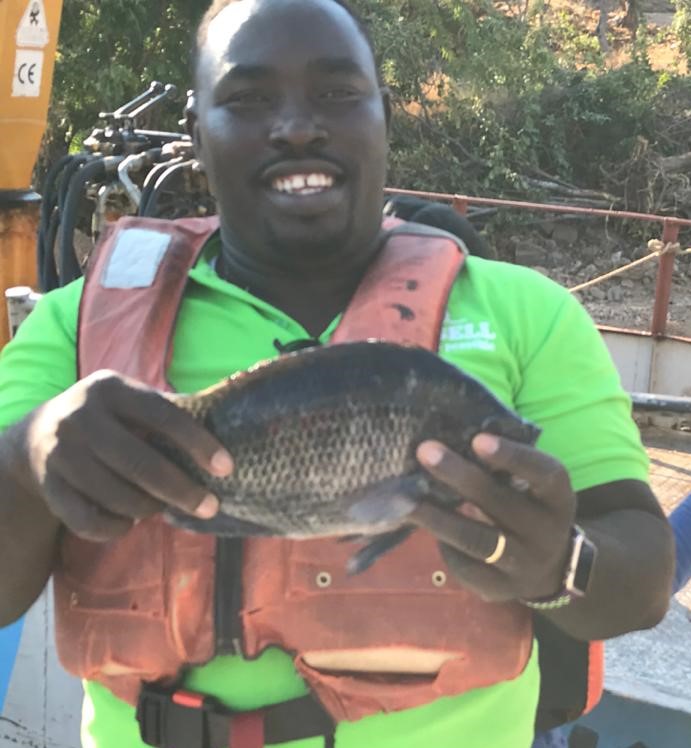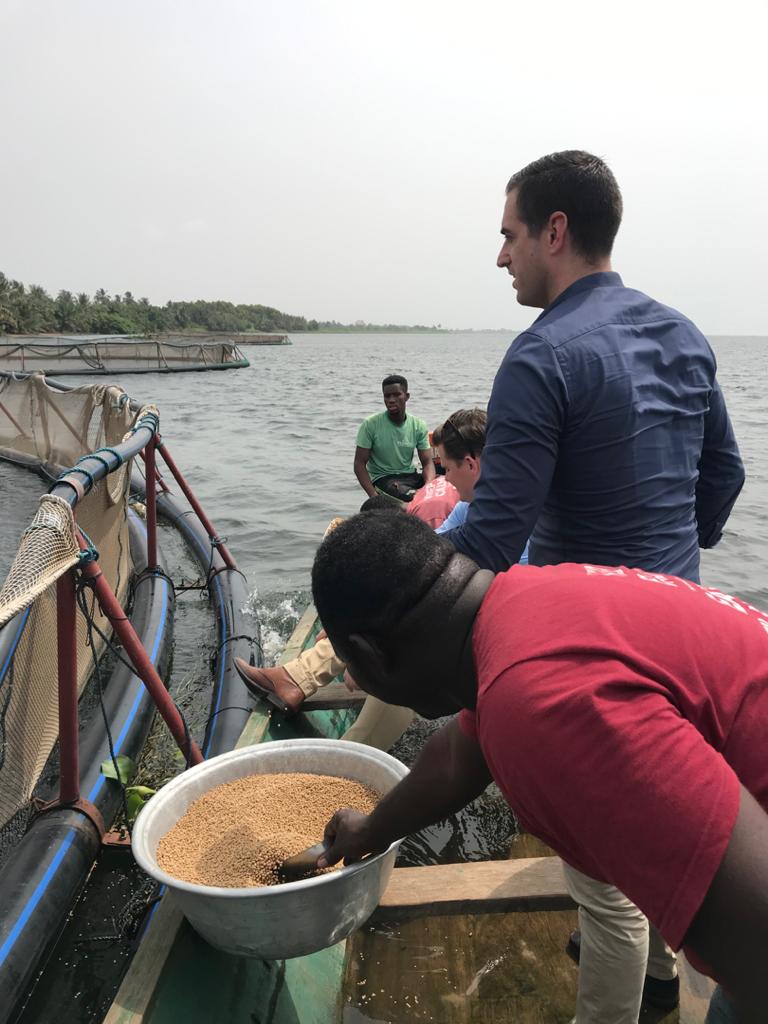 Photo Caption: Evans Danso, recently awarded Best Fish Farmer in Ghana by the Ghanaian Ministry of Food and Agriculture, proudly displays fresh tilapia on his farm in Ghana.
Congratulations to WISHH strategic partner Flosell Farms, founded by Evans and Florence Danso. The expanding aquaculture enterprise won its second major award in only eight months. In June, Flosell received The West African Regional Achievement Award (TWARM). The honor builds on the Ghanaian Ministry of Food and Agriculture presenting Evans with the Best Fish Farmer in Ghana award in November 2020.
The TWARM selection puts Evans, who serves as CEO, in the lineup as a contender for the Young Achiever of the Year in Agribusiness. The June award is a precursor to the African Regional Journal Forum in Kigali, Rwanda. TWARM recognizes that regional African trade as an important engine of economic growth and development.
The Danso family started Flosell Farms after Evans left an engineering position as packaging projects manager with a multinational food company. He credits WISHH for helping take his vision from a dream to the fourth largest aquaculture farm in all of Ghana. "I can confidently say I contribute my experience with WISHH as to why we've grown so rapidly," Danso noted. "The trainings from ASA/WISHH have been very interactive and high level."
Flosell Farms uses extruded soy-based fish feed to produce two million tilapia fingerlings per week. In addition to adding 90 new ponds at its new site, Flosell is installing a new factory with the capacity to process 10 tons of tilapia per day. Their company currently has 51 direct employees and supports jobs for another 250 people who are involved in cleaning and distribution.
Additionally, Flosell is participating in the National Tilapia Seed Project, which is seeking to raise the quality of tilapia production. The company also helped host the National Tilapia Vaccination Programme to tackle the outbreak of the Infectious Spleen and Kidney Necrosis Virus (ISKNV) that began on Lake Volta in 2018. As a result of the virus, farmers have had to reevaluate management practices for overall farm efficiency. WISHH has supported this shift through USDA Agricultural Trade Promotion (ATP) funding to promote financial resilience by providing technical training programs in all areas that affect fish health, including husbandry practices, water quality, breeding programs, fish nutrition, and feed management.
With the support of USDA ATP funds in 2019, WISHH brought Evans and other African aquaculture entrepreneurs to WISHH strategic partner, Auburn University's E.W. Shell Fisheries Center. There, Evans learned innovative new techniques on aquaculture management and development. He also learned how U.S. soy is used to raise better fingerlings, creating a larger yield and healthier fish. He was so impressed with what he learned that he called his staff to adopt the practices before he even returned to Ghana.
The young entrepreneur has continued trainings with WISHH-affiliated partners in Ghana. He will play a key role as host for regional management trainings meetings in Ghana later in 2021 under WISHH's ATP-funded program.
Evans expects to continue his work with WISHH in the future, noting that WISHH is at the forefront of aquaculture development in Africa. "It's very fulfilling to have seen this opportunity and now have this level of development and employment," he adds.
As aquaculture grows in the region, demand for U.S. soy is ready to fill the growth in demand for raw materials. And Evans plans to be there every step of the way, saying "This offers opportunities for more advancement of aquaculture in the region."
WISHH is executing a regional aquaculture strategy in West Africa. In May, WISHH used USDA Foreign Market Development funding to bring three leaders from one of Senegal's top feed producers to Ghana to learn more about aquaculture. During the visit to Ghana, the team met with several fish producers, including Flosell, and feed manufacturers to learn about aquaculture best practices and collect information to guide their business strategy. Investment in aquaculture in Senegal holds future promise for the growth of aquaculture on the African continent so the WISHH team has planned follow-on activities to continue to encourage investment.