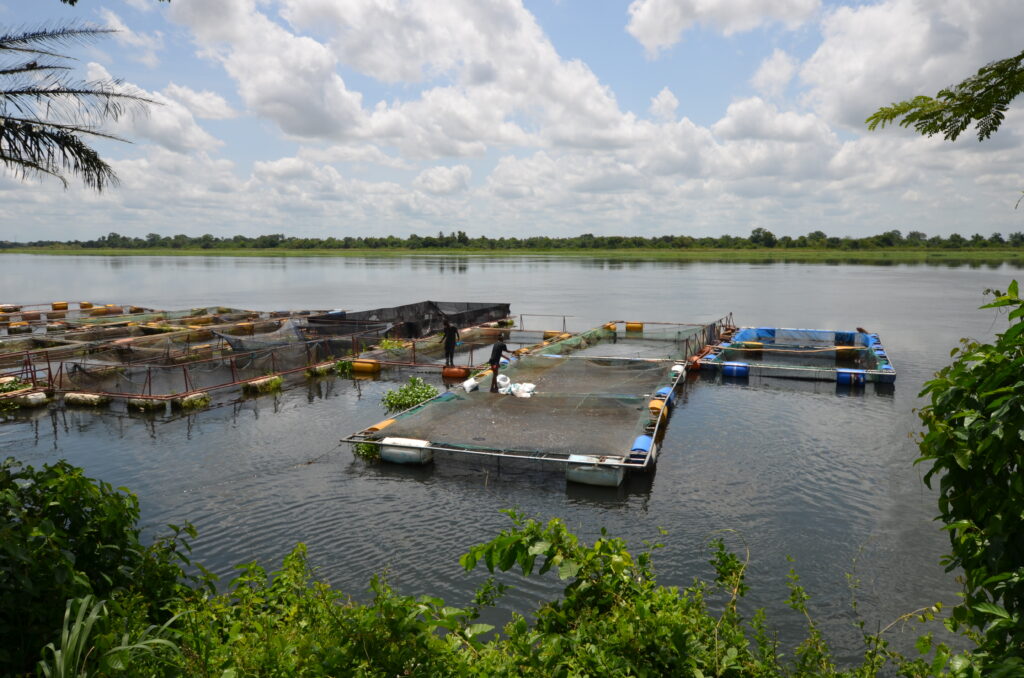 Flosell Farms is awash with activity on a May morning as Davida Obeng-Mensah and her coworkers harvest young tilapia from ponds perched above the banks of Ghana's Volta River. The staff and interns then place the young fish in aquaculture tanks where they will grow as they feast on soy-based feeds.
Obeng-Mensah, a 2022 ASA/WISHH intern at the farm, plays a leading role in the fish hatchery and is an advisor to the spring 2023 class of interns who will graduate from the 16-week training program later in the day. The real-world training experience is part of WISHH's global aquaculture strategy that not only promotes sustainable feeds for fish. Importantly, WISHH's United Soybean Board-supported program offers leadership as well as practical skills for careers that contribute to global food security.
"Let's feed the world some protein," emphasizes Flosell Farms CEO Evans Danso as he encourages the interns at their graduation ceremony.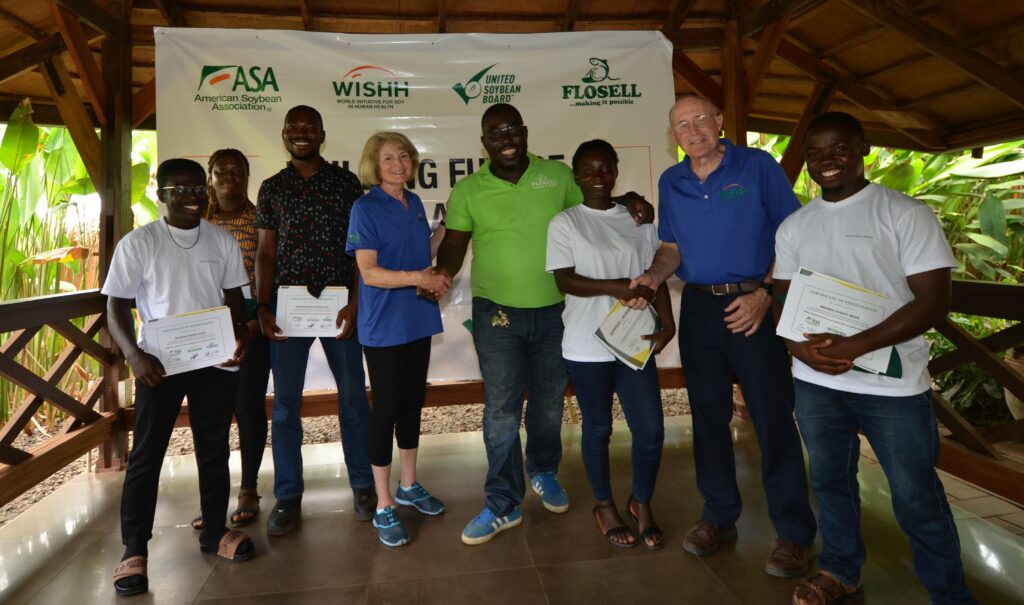 WISHH Chair Roberta Simpson-Dolbeare and Treasurer Bob Haselwood joined Danso to honor the five May 2023 graduates. WISHH and Flosell tested the initiative in 2022 with three interns with college degrees. All quickly landed jobs. Flosell hired one, Obeng-Mensah. More than 50 applicants from multiple countries competed for spots in WISHH's spring 2023 training session. WISHH has leveraged the USB funding with the USDA Market Access and Agricultural Trade Promotion programs to implement the internship. WISHH sends global aqua experts to the farm where they lead trainings and provide production advice. Nebraska soy checkoff funding is allowing WISHH to evaluate a new-to-Ghana water aerator at Flosell Farms, which adds innovation to the interns' learning too.
Opportunity for Youth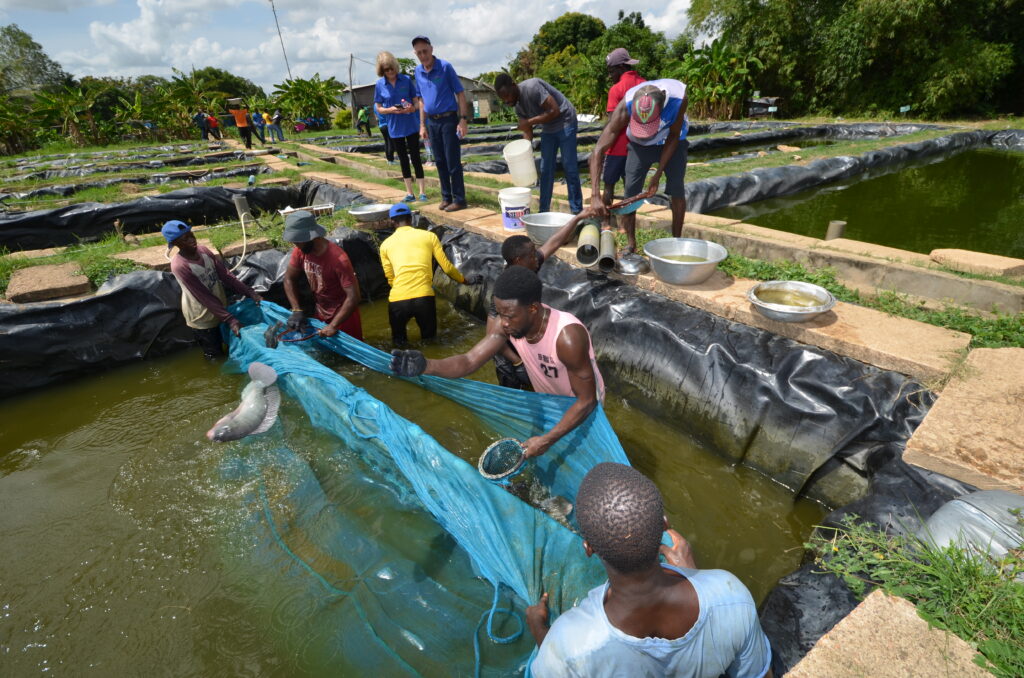 The hands-on experience is prized by interns like Mbonea Assery Mdoe who traveled from East Africa where he is the co-founder of Aqua-Farmers Hatcheries in Tanzania. "It's been an incredible journey filled with invaluable experiences, personal growth, and new connections," shares the entrepreneur who already had five years' experience and a bachelor's degree in agriculture. "I'm immensely grateful to the amazing team…Excited to bring these newfound abilities to the next chapter of my professional journey in the aquaculture industry."
Fellow intern Esther Anim notes, "I've learned about fish health management, combatting fish diseases, and how to better produce fish…Aquaculture is important to Ghana because not only is it going to improve fish production, but it will also give employment to the youth."
Today, more than 60% of Africa's population is under the age of 25, according to the World Economic Forum. By 2030, young Africans are expected to constitute 42% of global youth. Such growth drives demand for protein and offers careers for the interns who will have a positive relationship with WISHH as a result of their internship.
Haselwood reports, "Sub-Saharan Africa is home to talented and hardworking young aquaculture professionals, and they have important natural resources to support future aquaculture growth."
Aquaculture Boosts Local Economies
WISHH's global aquaculture strategy is feeding fish and helping fill the growing demand for more aquaculture professionals. Since the year 2000, aquaculture production in sub-Saharan Africa has grown by 11% annually on average — almost twice as fast compared with the rest of the world.
Tilapia is native to Africa. According to the Food and Agriculture Organization of the United Nations, tilapia is now the second most popular farmed fish globally and one of the most traded seafood commodities. Both rural and urban consumers eat tilapia as an affordable source of protein.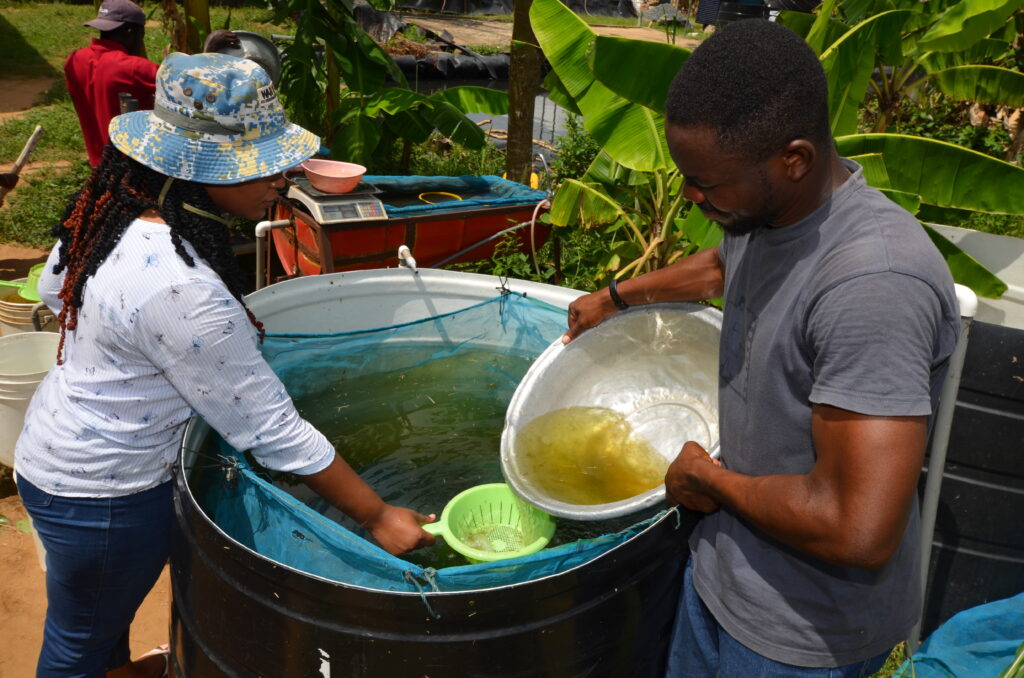 Danso's farm uses 60%-soy feeds and produced 16 million fingerlings and 1300 tons of table-sized tilapia in 2022. He is working to develop an outgrower scheme so the farm can support local community members who also want to raise fish. The riverside farm is about 60 miles south of the world's third largest manmade reservoir by volume, Lake Volta. The reservoir covers a third of Ghana's land area. According to research published in Nature Food, private sector investments have led to aquaculture expansion across sub-Saharan Africa's inland water, increasing from nine cages in 2006 to more than 20,000 in 2019. Lakes Victoria (Kenya, Tanzania, Uganda), Karibe (Zambia, Zimbabwe), Kivu (Rwanda, Democratic Republic of Congo, Muhazi (Rwanda) and Ghana's Volta host 91% of the total inland cage aquaculture. Simpson-Dolbeare shares, "A highlight of our trip was speaking with aquaculture interns and farmers who are poised to grow their industry. They repeatedly volunteered to tell us why they prefer our high-quality U.S. Soy for their feeds. WISHH is strengthening their overall aquaculture industry, which could eventually boost trade for U.S. Soy in new markets."
Sources:
According to a 2022 Nature Food research article, affordable quality feeds are one of the challenges facing sustainable aquaculture development in sub-Saharan Africa. Since the year 2000, aquaculture production in sub-Saharan Africa has grown by 11% annually on average — almost twice as fast compared with the rest of the world, with a few countries growing at 12–23% per year.
https://www.nature.com/articles/s43016-022-00467-1
https://www.weforum.org/agenda/2022/09/why-africa-youth-key-development-potential/#:~:text=Today%2C%20more%20than%2060%25%20of,constitute%2042%25%20of%20global%20youth.
Source FAO Globefish: https://www.fao.org/in-action/globefish/fishery-information/resource-detail/en/c/338148/#:~:text=Tilapia%2C%20which%20is%20native%20to,the%20most%20traded%20seafood%20commodities.