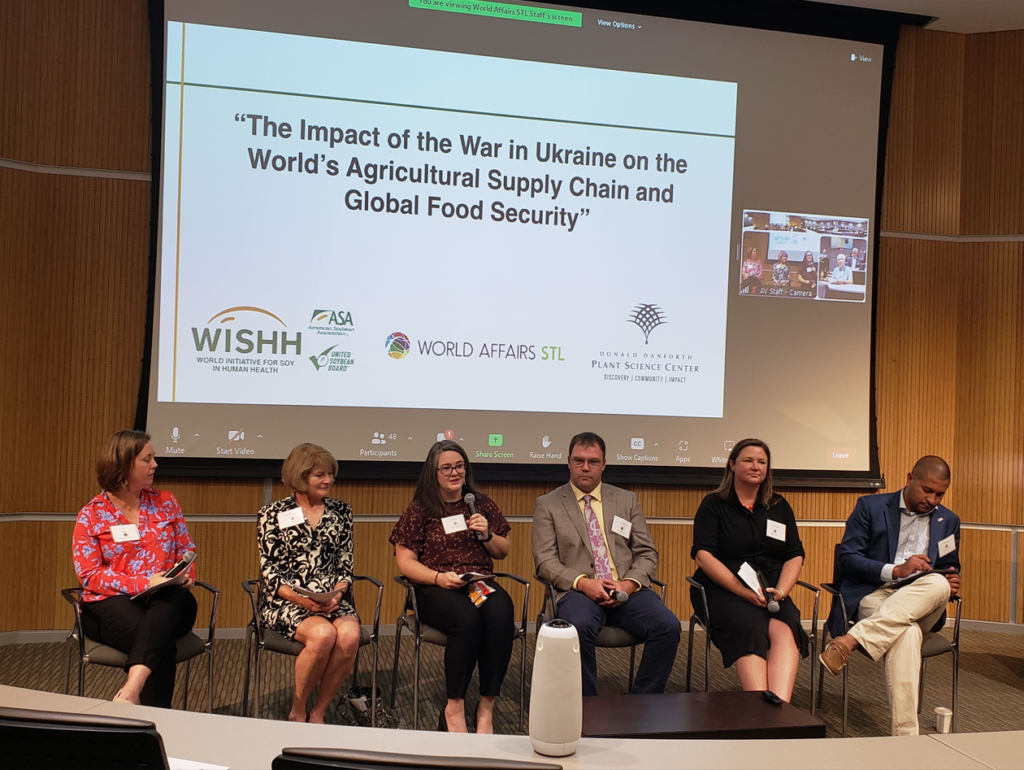 ASA's World Initiative for Soy in Human Health Program lent its expertise to a panel focused on global food security. In partnership with the World Affairs Council St. Louis, "The Impact of the War in Ukraine on the World's Agricultural Supply Chain and Global Food Security" was held this week at the Donald Danforth Plant Science Center in St. Louis. WISHH used funding from the United Soybean Board to sponsor the event.
It offered WISHH Chair Roberta Simpson-Dolbeare the opportunity to discuss the war in Ukraine's effects on global commodity prices and the soybean supply chain. Simpson-Dolbeare, an ASA director and soybean grower from Illinois, reminded attendees that the demand for U.S. soy is as high as ever due to its highly-quality protein value as the war in Ukraine continues to reverberate in developing and emerging markets globally. WISHH Executive Director Gena Perry also joined Simpson-Dolbeare to discuss by how WISHH leads U.S. soy's role in developing and emerging markets in sub-Saharan Africa, Asia, and Latin America and works with strategic partners. Additionally, she explained that WISHH's USB-funded work is an example of how WISHH meets the new USB vision of "Partnering to deliver sustainable soy solutions to every life, every day.
Others who joined the panel were USB Vice President for Market Intelligence Mac Marshall, Tiger Soy Commercial Director Adam Thomas, and Danforth Executive Director of Innovation Partnerships Stephanie Regagnon. Additionally, Edesia Nutrition Tom Stehl's spoke of how Edesia procures U.S. soy to manufacture its high-protein food packets distributed to more than 60 countries. USB continues to fund WISHH's work with Edesia.
Through its project with USB and beyond, WISHH continues to provide insights into how it works to develop the presence of U.S. soy in these developing and emerging markets while also discussing current and future market trends.