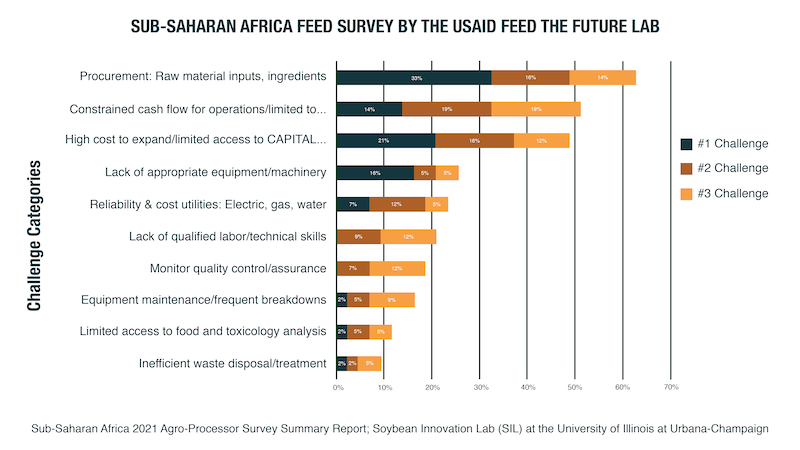 ASA/WISHH leveraged its relationship with supply chain partners in sub-Saharan Africa to provide real-world insights on the challenges and opportunities facing agricultural processors who are vital to the production of highly nutritious foods that are also affordable and delicious. WISHH, understanding the need to strengthen the soybean value chain, identified key supply chain partners for participation in the survey led by the Feed the Future Innovation Lab for Soybean Value Chain Research, or the Soybean Innovation Lab (SIL) at the University of Illinois at Urbana-Champaign.
The survey asked participants to identify their top three challenges in their current operations. The overwhelming No. 1 response (63%) was the procurement of raw materials. This challenge highlights WISHH's work to fill supply gaps and strengthen the capacity of agricultural processors to manufacture high-quality foods and feeds. Other challenges of note are constrained cash flow, marketing and promotion of new products as well as food safety techniques for processors.
WISHH continues to work with strategic partners to respond to these challenges and others in ways that enhance the soybean supply chain in the region, which is key to improving global food security and ultimately building new markets for U.S. soy.