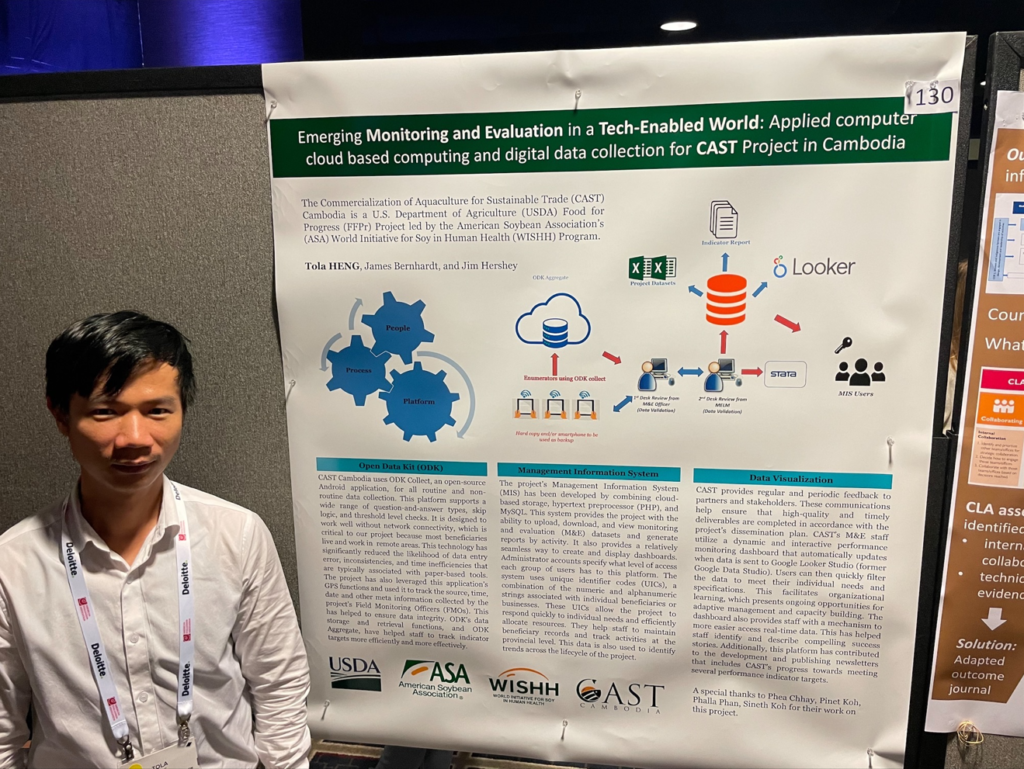 ASA's World Initiative for Soy in Human Health Program and the Commercialization of Aquaculture for Sustainable Trade-Cambodia Project staff presented CAST program success this week at the American Evaluation Association conference in New Orleans. This annual conference examines best practices, policies, and innovative approaches that are improving the field of evaluation science and helping organizations to collaborate, learn and adapt. The conference provides WISHH with the opportunity to showcase its performance indicators and results, and network with staff from USDA.
CAST Monitoring, Evaluation, and Learning Manager Tola Heng presented how the project has leveraged cloud-based computing to collect, analyze and disseminate information used to gauge the effectiveness of project activities. WISHH's Director of Monitoring & Evaluation James Bernhardt and CAST Chief of Party Jim Hershey assisted Mr. Heng in the development of his presentation. The presentation included an overview of the open-source application CAST is using to collect data and discussed the management information system that was developed and deployed by the M&E team in Cambodia. Mr. Heng also described the project's data dashboard and how it has helped to adaptively manage the project.
A USDA Food for Progress Project, CAST strengthens local production of high-quality feed and fish to build a profitable market system for aquaculture products in Cambodia. CAST accelerates production of high-demand fish species for the Cambodian market, developing a lasting aquaculture industry and promoting Cambodian-raised fish. The success of the project could lead to the increased use of U.S. soy-based fish feed.