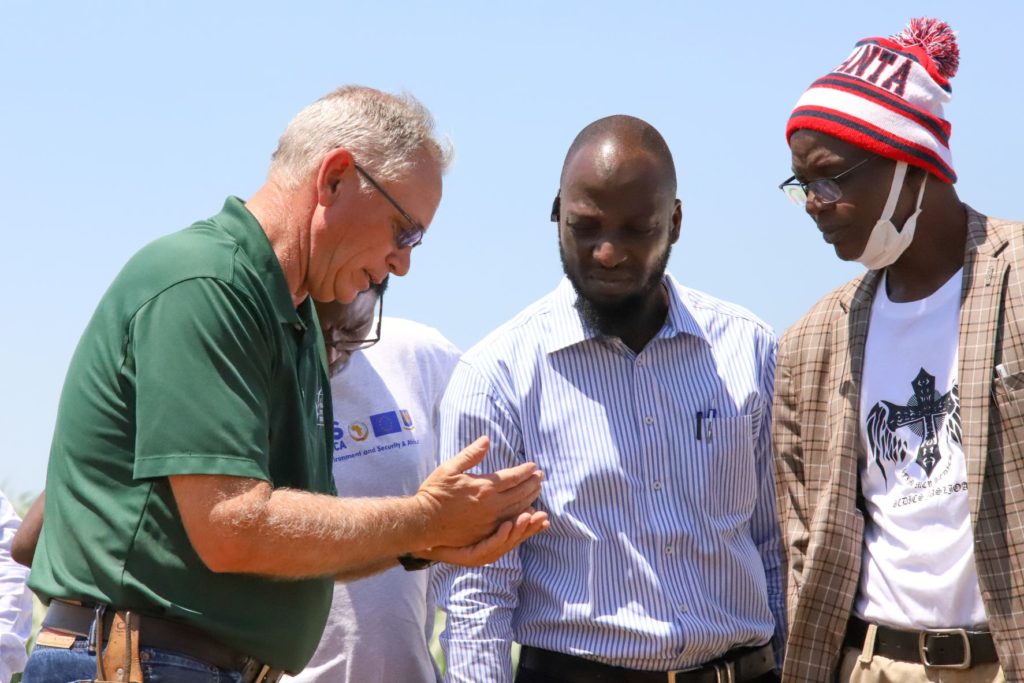 ASA's World Initiative for Soy in Human Health Program continued a busy summer of trade team travel in June as strategic partners and entrepreneurs from Asia and sub-Saharan African visited with U.S. soybean growers, attended training programs, and exchanged information on the benefits of U.S. soy in feed.
The Kansas Soybean Commission and Kansas State University's IGP Institute hosted leaders of feed manufacturing companies from Ghana, Nigeria, and Cambodia in late June. The IGP institute provides technical, research-based training to enhance the market preference for U.S. grains and oilseeds.
Trade team members began the week on June 20 with a visit to Kansas Soybean Commissioner Lance Rezac's farm in Onaga, KS. There, they learned more about the benefits of U.S. soy for animal feed, and many were able to see U.S.-farmed soybeans up close for the first time.
"It is always enjoyable to meet representatives from other countries. This group seemed particularly interested in our ability to cover a lot of ground," Rezac said. "Much of that is attributed to technology. I think that was a great point of conversation and learning."
To round out the visit, the Kansas trade team group attended IGP's feed manufacturing training to increase their understanding of the benefits of soy for fish and livestock feeds. The course covered topics such as grain storage and pest control, particle size reduction, batching and mixing, extrusion, drying and cooling, feed processing effects on animal nutrition, and more. WISHH used U.S. Department of Agriculture Emerging Markets Program, Agricultural Trade Promotion Program, and Market Access Program funding to support the trade team.