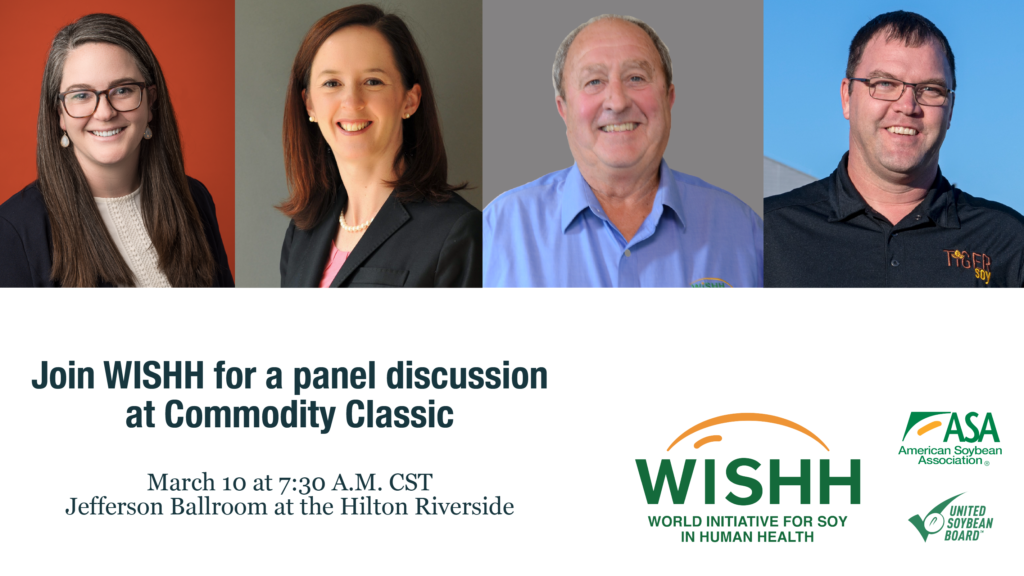 Find out how ASA's WISHH program grows new soy protein markets for global food security through exports. WISHH is hosting a United Soybean Board-supported panel discussion to offer Commodity Classic attendees the opportunity to hear from WISHH Program Committee Chair and ASA Director Gerry Hayden along with experts from the soy value chain for global food security. Joining Hayden, a soybean grower from Kentucky, are World Food Program USA Chief Engagement Officer Rebecca Middleton, Tiger Soy and SEMO Milling Commercial Manager Adam Thomas, and WISHH's new Executive Director, Gena Perry. Join us at 7:30 am Thursday, March 10, in the Jefferson Ballroom of the Hilton Riverside during Commodity Classic for this informative event.
The panelists recently participated in WISHH's "U.S. Soybean Growers Take Action for Global Food Security" dialogue in Rhode Island, where they joined other WISHH program committee members and USB Chair Ralph Lott II in discussions with food security experts. They also toured the supplementary and ready-to-use food producer Edesia, which forecasts it will use 7.5 million pounds of soy flour this year, requiring the equivalent of 170,000 bushels of soybeans.
Hayden will speak to how WISHH is leading action for global food security and contributing to USB's vision of partnering to deliver sustainable soy solutions to every life, every day. "The number of countries that need soy flour is amazing," says Hayden. "I'm excited for more farmers to hear about the important role that soy plays in global food security."
In addition, Hayden, Lott, and other U.S. soybean growers are featured in a video that will premiere during this Commodity Classic session. The Power of Protein: Soybean Growers Take Action for Global Food Security documents soy's unique place in delivering high-quality protein to vulnerable populations worldwide while also increasing profits for U.S. farmers. Representatives of Edesia and Tiger Soy lend their voice in the video alongside government experts such as USDA's Foreign Agricultural Service Administrator Brooke Jamison and U.S. Agency for International Development Deputy Administrator Mike Michener.
WISHH is a program of the American Soybean Association and is funded in part by the United Soybean Board and state soybean board checkoff programs.