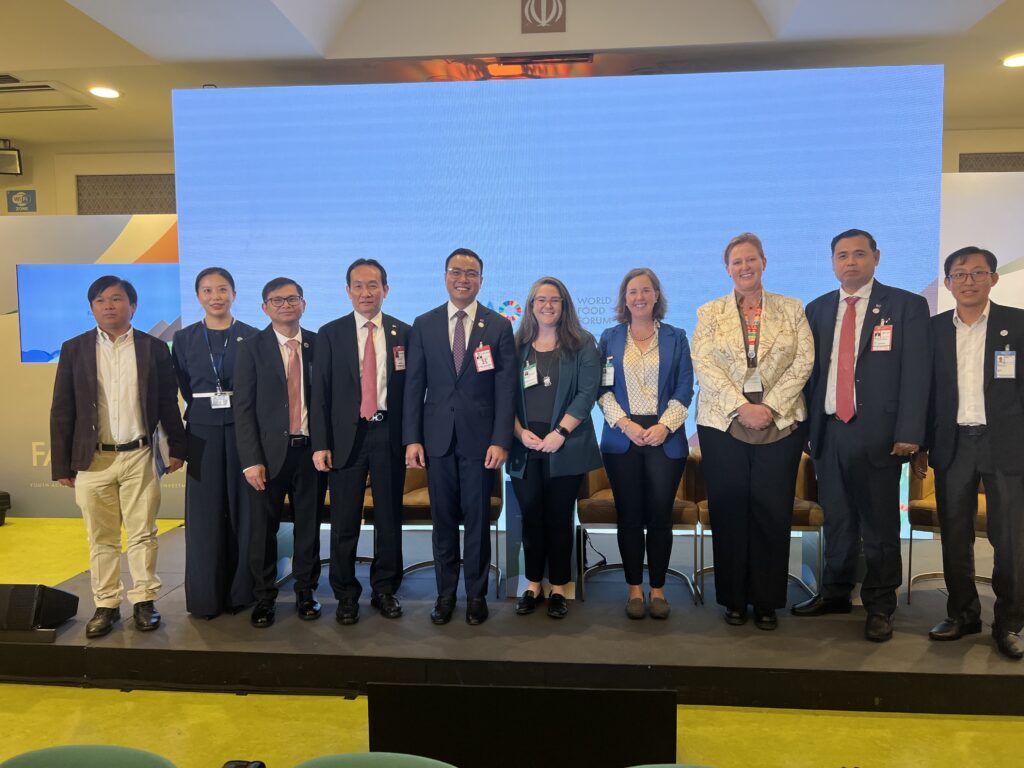 ASA's World Initiative for Soy in Human Health program updated the Kingdom of Cambodia's Ministry of Agriculture on WISHH's aquaculture work while participating in United Nation's Food and Agriculture Organization's (FAO) World Food Forum in Rome in October. The 2023 forum centered around the theme of "Agrifood Systems' Transformation Accelerates Climate Action." It brought together more than 5,000 in-person participants, along with more than 20,000 online viewers. WISHH participated with the support of the United Soybean Board.
Cambodia's Ministry of Agriculture, Forestry and Fisheries collaborates with WISHH's USDA Food for Progress project in Cambodia where fish provides over 80% of the animal protein in Cambodian diets. While in Rome, WISHH Executive Director Gena Perry and Strategic Advisor Liz Hare updated the ministry on how WISHH leverages USDA and soy checkoff funding as well as works with the US Agency for International Development's Feed the Future Innovation Lab to support Cambodia's growing demand for sustainable protein. They listed examples of innovations, such as in-pond raceway systems for fish and solar drying domes for fish processing that reduce food waste and food safety hazards while also cutting down on greenhouse gas emissions.
Aquaculture remains a high priority for the government of Cambodia as it helps sustain the Cambodian population while boosting its economy. Fish farmers in the country increasingly prefer U.S. Soy protein for feed to support the growing industry.