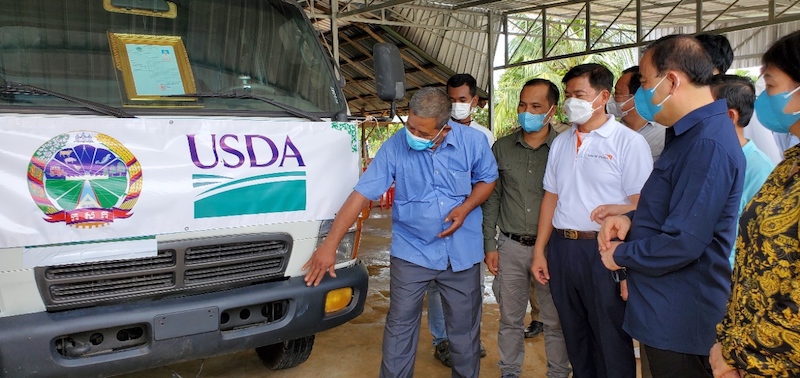 ASA/WISHH's Commercialization of Aquaculture for Sustainable Trade (CAST) – Cambodia's work with fish producer and wholesaler Chin Long has resulted in his fish sales increasing from 1 ton per day to an average of 1.2 tons per day. The business growth boosted his profits by 30%.
Long already had 20 years of aquaculture experience when he chose to participate with CAST in 2020. He saw opportunity for CAST to help him scale up his business. Through CAST, he gained new knowledge and skills, including important training on sanitary and phytosanitary standards. CAST also assisted him with an improved business plan and sharp vision that made it possible for him to secure a $10,000 USD loan from a CAST financial partner in March 2021. He used the loan to expand his business by repairing his truck that is vital to increasing his fish trade.

"I am delighted with all engagement and support I received from the [CAST] project," Long says. "I am going to share my experience and help other businesses in the province with the support I received from CAST".
CAST is a U.S. Department of Agriculture Food for Progress Project to accelerate production of high-demand fish species for the Cambodian market, develop a lasting aquaculture industry and promote Cambodian-raised fish. CAST strengthens local production of high-quality soy-based feed and fish and builds a profitable market system for aquaculture products. Through CAST, Cambodia's private sector and universities work closely with U.S. soybean growers and businesses as well as academic and non-governmental organizations.