Photo caption: Chairman Raden, Minnesota Department of Agriculture Assistant Commissioner Patrice Bailey, MSGA Executive Director Joe Smentek and Minnesota Soybean Director of Market Development Kim Nill. Photo credit: Minnesota Soybean Research & Promotion Council.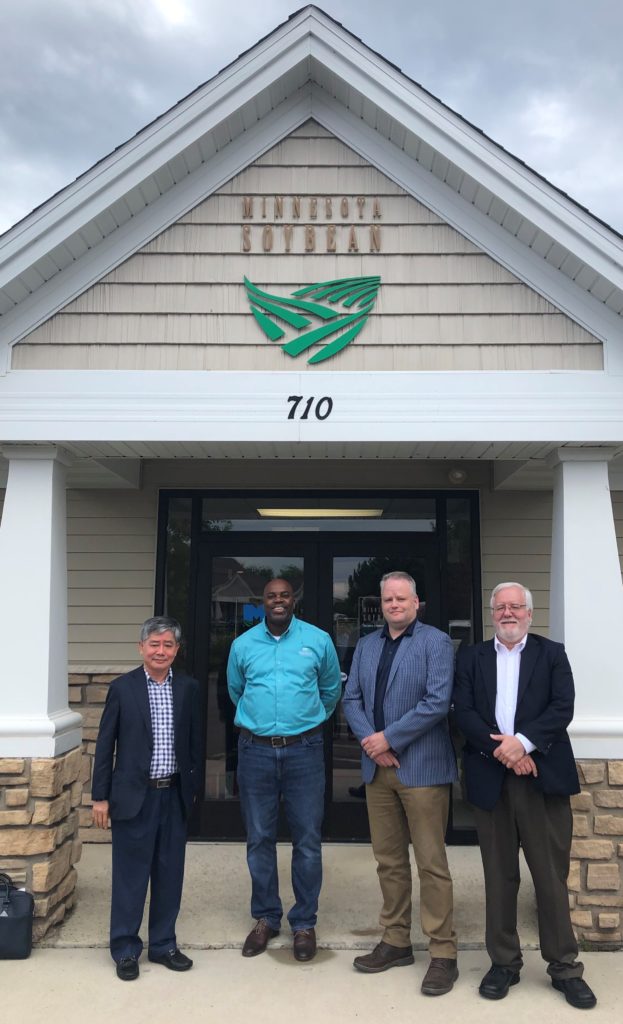 The Minnesota Soybean Research & Promotion Council and Minnesota Soybean Growers Association welcomed Cambodian Aquaculturist Association Chairman Sok Raden, a strategic partner to ASA/WISHH. Raden visited Minnesota Soybean's Mankato headquarters and participated in discussions about Minnesota soybean farming, soy in aquaculture feeds and association management. Minnesota Department of Agriculture Assistant Commissioner Patrice Bailey also joined.
Establishing a strong association is part of WISHH's long-term strategy through its USDA-funded Commercialization of Aquaculture for Sustainable Trade – Cambodia Food for Progress project. Cambodia has approximately 46,000 aquaculturalists, as well as 895 community ponds and 309 fish hatcheries.
"Minnesota soybean growers support the ASA/WISHH program with their soybean checkoff dollars, and WISHH leverages those dollars with USDA and other programs," said Vesta soybean grower George Goblish, who serves as an ASA director as well as on the WISHH Program Committee. "The CAST project is an exciting leadership opportunity for WISHH to trailblaze new trade relationships by working on behalf of U.S. soybean growers in developing or emerging markets."
A fish farmer himself, Raden is the volunteer chair of the association. He owns more than 20 ponds that collectively cover more than five acres, which makes his farm a relatively large Cambodian aquaculture enterprise and an excellent CAST partner.
Launched in September 2020. CAA had grown to more than 300 members despite COVID-19 complicating its membership drive. The association is key to WISHH's strategy to create a lasting Cambodian aquaculture sector. Another CAA board member is an ADM customer and a distributor of fish feeds made with U.S. soy.
WISHH is leveraging the CAST project with soybean checkoff funds, including creation of an association resource, a toolkit for professional farmer organizations. To develop these resources, WISHH engaged the services of Ag Management Solutions, LLC, which oversees the daily operations of both MSR&PC and MSGA.