WISHH Plays Instrumental Role in Pakistani Aquaculture Industry Growth
WISHH Plays Instrumental Role in Pakistani Aquaculture Industry Growth
As the 5th most populous country in the world with a growing middle class and impressive fall in poverty rates over the last decade, Pakistan holds vast opportunities for those working in emerging markets. While the population and economy of the country continue to grow, a protein gap remains. Pakistan needs to produce more protein in order to provide proper nutrition for the country's citizens.
WISHH identified an opportunity to reduce the protein gap found in Pakistan through improvements to the aquaculture industry.  WISHH's work within the feed value chain resulted in an increased quality supply of soy-based aquaculture feed through improved production efficiency, which ultimately provides consumers access to safe, affordable fish protein.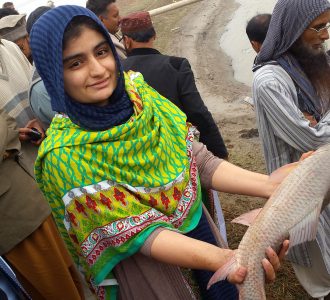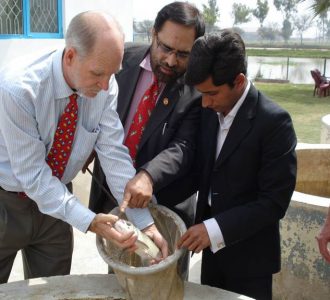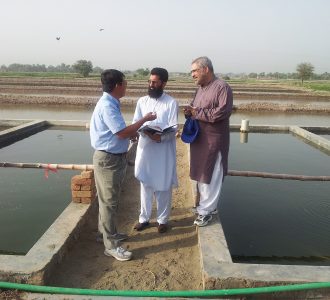 WISHH's U.S. Department of Agriculture (USDA)-funded FEEDing Pakistan project improved capacity, productivity and quality in the Pakistani aquaculture sector with a focus on high quality fish feed produced with U.S. soy. Fish feed production grew from zero in 2011 to 24,000 MT in 2018. Today eight feed mills in Pakistan have a combined processing capacity of approximately 100,000 MT/year of soy-based fish feed. Despite comprising a very small percentage of the overall animal feed market, interest in aquaculture feed is expanding. Working closely with U.S. land grant universities, including: Kansas State, the University of Arizona and Auburn University, WISHH's FEEDing Pakistan project helped increase the market value of fish produced—tilapia—from zero at the beginning of the project to an estimated $4.5 million USD within three years.
Consistent soybean supply plays a critical role in aquaculture and livestock sector intensification and resiliency in Pakistan and around the world. U.S. soybean trade with Pakistan complements locally-available feed ingredients to enhance aquaculture sector intensification. U.S. soybeans are currently being imported into Pakistan at record high rates and crushed locally – the value to the product added locally in Pakistan. Crushers' largest customers are the Pakistani poultry (90%) and livestock feed industries (10%), with feed for aquaculture emerging as a new market. ASA/WISHH's sister organization, the U.S. Soybean Export Council (USSEC), is active in Pakistan working with the crushing industry and the poultry feed sector. ASA/WISHH and USSEC remain committed to meeting current and future demand for soybeans which will stem from improvements in both the aquaculture and livestock feed sectors.
USDA estimated that the Pakistani aquaculture sector will grow 525% by 2022, requiring a subsequent increase in fish feed. As that growth in protein demand continues, U.S. soy will be there to meet current and future demand.