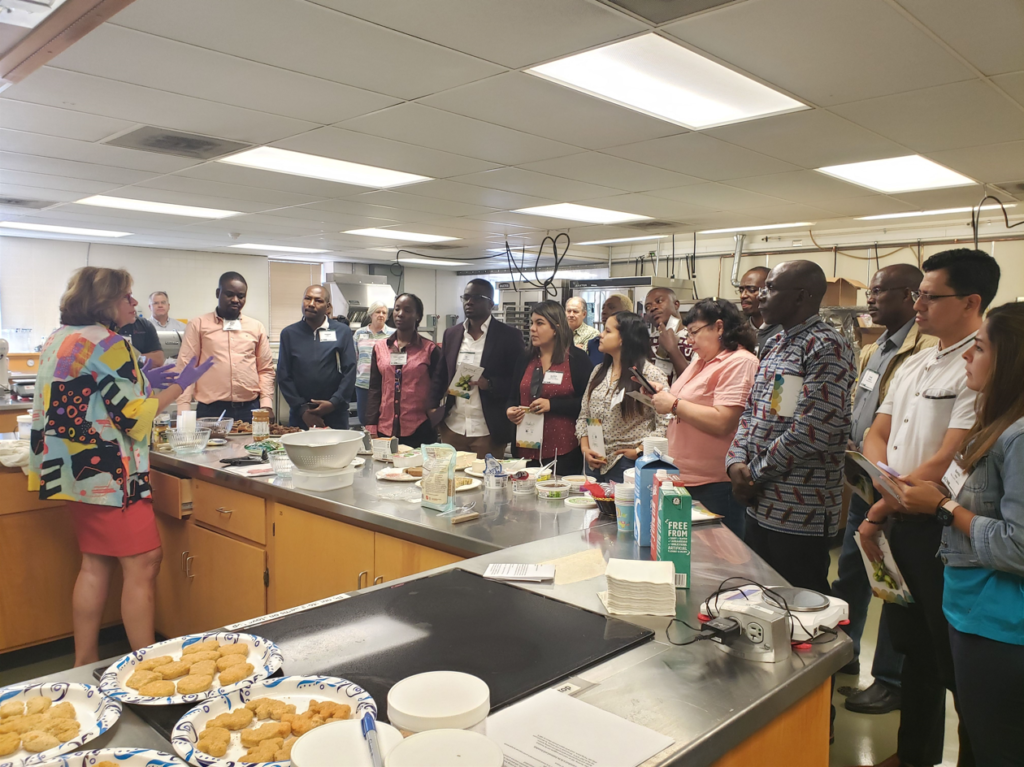 ASA's World Initiative for Soy in Human Health Program's busy summer of trade teams is in full swing. This August, food and feed leaders from three different continents visited soy production leaders in Minnesota, North Dakota, and South Dakota. Business leaders from Asia, Central America, and sub-Saharan Africa joined the trip to explore new ideas for soy-based foods and snack foods, soy as a supplement to fortify foods, soy as animal nutrition, and to receive an overview of soy production in the United States.
Members started the trip with a visit to the farm of soybean grower Craig Lichtsinn in Dumont, MN. From there they took courses at the Northern Crops Institute (NCI), visited soy production facilities, and paid a visit to South Dakota State University's Swine Research Center to learn more about soy's use for animal feed.
For longtime WISHH partner and business leader Fridah Kaburu, the innovation manager of Kenya-based Prosoya Kenya, the trip opened her eyes to increasing production of foods and feeds with U.S. soy. She noted that meeting other WISHH partners on the trip only affirmed her confidence in working with an organization like WISHH. However, the science behind the production of high-quality U.S. soy struck the biggest chord with Kaburu.
"I loved meeting new WISHH partners from around the world," explained Kaburu. "But it was the science of the production that got me so excited. For instance, we are more confident at Prosoya with the extrusion process after going through a hands-on learning experience."
Another WISHH partner, Charles Nsubuga of Sesaco, echoed Kaburu's comments. He also added that the trade trip helps his Kampala-based company understand how to direct its business strategy.
"One thing I was curious about before coming here was growth and affordability," explained Nsubuga. "U.S. soy offers such a high protein value and is so high quality in so many different ways we can't afford not to use it. I am a lot more confident seeing the science before soy foods and feed and the cost-effectiveness of the equipment. With WISHH's support, we will try to replicate it in our country."
WISHH used Minnesota soy checkoff dollars as well as USDA Market Access Program (MAP) and Agricultural Trade Promotion (ATP) program funding to bring the company leaders to the United States. North Dakota and South Dakota soybean growers are also joining WISHH as hosts on some legs of the trip.